A tripod is an essential piece of gear for any photographer, and with the right skills it can elevate your photography, making otherwise impossible shots easy. However, with so many different designs and configurations on the market, choosing the right one can be difficult. To help you make the smarter choice for your gear, digiDirect has put together this guide to what to look for in a tripod. We'll outline a few different types of tripods, what makes each of them a worthy purchase, then suggest nine of our favourites.


Different Types of Tripods
Tripods come in many different types. Each has their own benefits and specific utility, but unless you know what you're looking for, finding the right one for your needs can be difficult.
Tabletop Tripods
Tabletop tripods are great for the everyday photographer due to their compact size and the ability to buy them in kits. The head and legs come attached, and they usually have a maximum height of under 30cm. These can also include the flexible GorillaPod lineup from Joby. They're an excellent choice for people who travel or hike, or people who shoot photos in areas where full-sized tripods can't go.

Travel Tripods
Very small and compact, most travel tripods fold up for easy storage and portability. Their legs typically swing upwards until the tripod's feet encompass the tripod's head, which makes their carry size about 20cm shorter when folded than it would be otherwise. They're great for hikers and adventurers who have weight and size considerations but who want a  more full-size style tripod than a tabletop tripod can provide.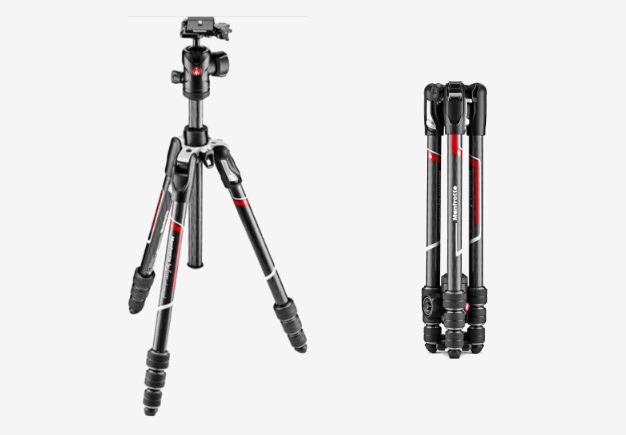 Non-Detachable Head Kits
More and more manufacturers are now starting to sell tripods with non-detachable heads. They're designed for entry-level photographers who need something sturdy yet cost-effective. They come with an inseparable leg and head combined with a simple pan and tilt head style that suits most beginning photographer's needs. It allows for easy adjustments that suit most types of shots. They typically aren't the highest quality systems on the market, but they provide an excellent value proposition.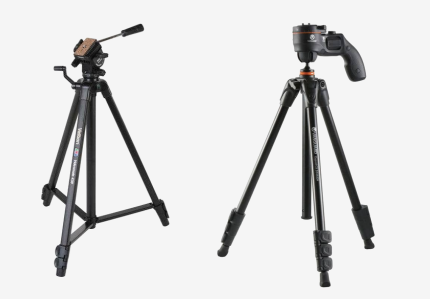 Tripod System
One of the most popular types of tripod categories is the total tripod system. Compared to the non-detachable head kits, these tripods can have different heads put on them. They may be sold as a kit with the legs and the head, or you may buy each separately. They are typically what enthusiast or professional photographers will use. They're slightly more expensive than the previous categories, but they are very durable and of generally high quality. The flexibility of detachable heads allows you to customise your setup based on the type of head you may need at the time. These will typically last for many years.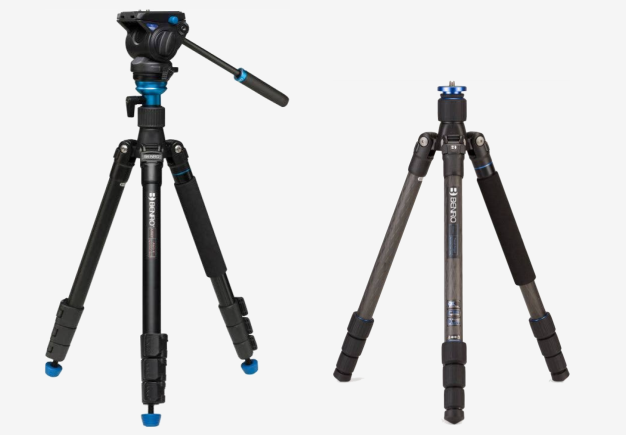 Tripod Heads
Along with the tripod type, you also have to consider the various tripod heads that are available. All of these head styles perform differently from one another, and each type of head suits a different photography style. They include: 
A ball head is one of the most popular and modern tripod heads available. You'll get a dual or tri-control design that uses your camera as a 'handle' and moving it any direction with a single knob control. If you get a tri-control design, you'll get an additional control that allows for 360┬░ panning. The compact size and the adjustment speed make it popular among photographers in a wide range of disciplines.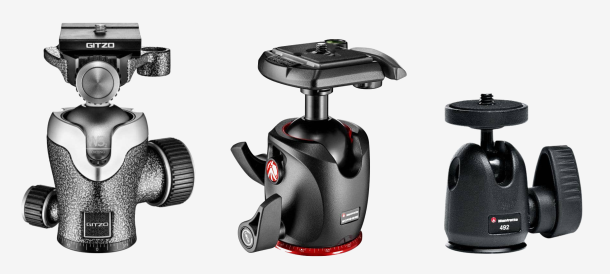 You'll find gimbal heads in advanced wildlife and sports photographer's gear because it's almost essential for supporting the larger telephoto lenses that are so common in these types of photography. You'll be able to track your subject both horizontally and vertically, and it allows you to take your hands off the camera, and it'll maintain its position if you have it balanced correctly. You will most likely need to purchase a mounting plate that is specific to the lens you want to use, and this is a larger and bulkier option than other tripod heads.  


A fluid head delivers smooth panning and tilting action through a sophisticated fluid dampening system that smoothes the motion and eliminates unwanted movement. Originally designed to decrease any jitter for professional newscasters and filmmakers, it's a configuration primarily used for video shooting. They can be used for photography as well, although they don't allow for shooting in portrait orientation. Pay attention to the maximum load capacity on fluid heads, as exceeding this can diminish the dampening effect or cause the tripod to overbalance. 




Tripod Leg Styles and Materials
No matter which tripod you choose, your choice is largely going to come down to price, load capacity and weight. The mechanism and material used in the creation of tripod plays a big part in determining all three. First off is the mechanism. This largely determines exactly what you can and can't do with a particular tripod, as well as has elements of personal preference. Leg styles include: 
Flip Lock
Flip-locking tripod legs are very popular for beginning photographers due to their simple operation and fast setup time. All you have to do is flip the lock open, and the tripod legs extend. Once you get it to the length you want, flip the mechanism closed to lock it in place. They're adjustable and long-lasting, but they can't withstand exposure to unfavourable weather conditions, and you will need to periodically tighten them.
Twist Lock
Twist locking tripod legs are widely considered to be a more professional choice. Almost all twist lock tripods only need a quarter turn to unlock the mechanism and extend your tripod's legs. When you reach your desired height, turn the locking mechanism  back to engage the locks. You shouldn't have to tighten the mechanisms because you're not opening them all the way, and they're relatively easy to take apart and clean.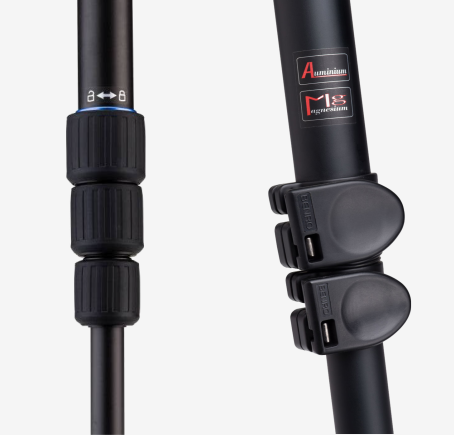 Along with the locking mechanisms, your other big decision will be the material. These materials are what will factor into the tripod's weight and price, but both materials are very durable and sturdy. They include: 
Aluminium
Aluminium is the heavier tripod material, but it also withstands accidental drops or dings remarkably well. You'll get increased stability due to the slightly heavier weight, and it's a more traditional material. However, they reflect the shooting environment when you use them, and this means they get cold when it's cold out, hot when the temperature rises and they're prone to rusting if they get wet. You can generally expect tripod legs to be aluminium unless otherwise specified.
Carbon Fibre
Although carbon fibre is relatively new, it's gaining in popularity because it's a lightweight and portable option while still being durable. It offers reduced vibration transmission, it's resistant to rust, and it's resistant to temperature changes. However, it's also more prone to damage because it's a thinner and lighter weight metal than aluminium. If weight is a concern, carbon fibre will be your go-to choice, although note they will be more expensive than aluminium. Many pro tripods these days can be purchased in either aluminium or carbon fibre.


Nine Tripod Recommendations
Since there are thousands of tripods and hundreds of brands, we rounded up the top nine tripods that we think photographers of any skill level could benefit from owning. Benro and Manfrotto dominate our list because they make some of the best tripods available, and we believe that you deserve the best.
Hailed as the best portable tripod, you'll get an ultra-compact design that is excellent for nature photography. It's a tabletop style tripod with flexible legs that allows for unusual positioning by placing it on uneven surfaces or wrapping it around a tree or pole. 


This very compact yet sturdy tripod has a low price point that makes it a good choice for beginners. It has a very versatile design with a three-position angle lock on the legs with rubber feet to enhance the tripod's stability. It also has an excellent swivel feature that provides extra flexibility.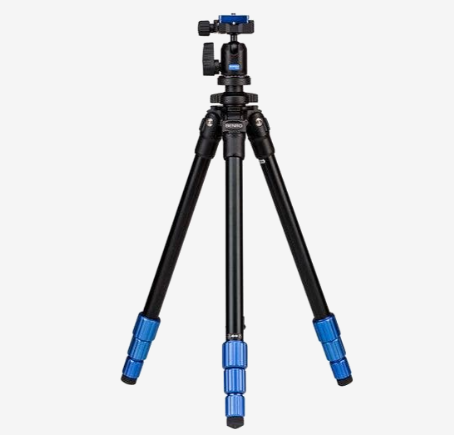 The Aero4 is a very solid tripod system that is popular with video shooters. It features a fluid head that enables smooth video panning and tilting, and it has a levelling column for uneven ground, which greatly speeds up setup. You're able to fold it up to a compact size to transport and store it as well. Fun fact: all of the videos on the digiDirect YouTube channel are shot using a Benro Aero4 tripod.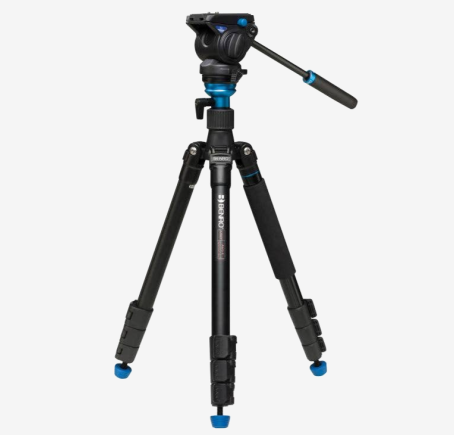 For the novice photographer or someone on a tight budget, this simple tripod could do the trick. This is one of the non-detachable head kits discussed at the beginning of this article. You'll get a simple and streamlined design for a very affordable price. It comes with a three-way pan/tilt head that you can use for both photos and videos. The geared column makes adjusting the camera an easy job.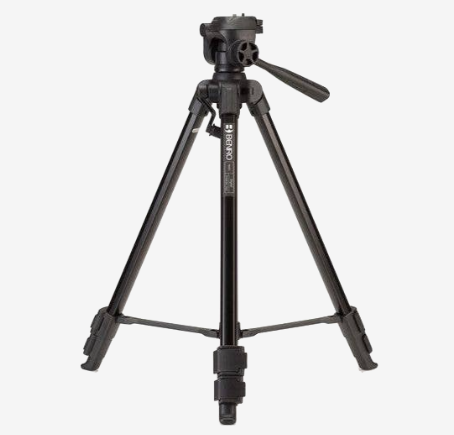 Coming from an Italian manufacturer, this tripod is very high-quality. The lightweight design coupled with the fluid head make this an excellent choice for both video and stills. You get a compact tripod that is great for landscape photography, travelling and nature photography because it won't add much weight to your pack, yet is an extremely high quality choice.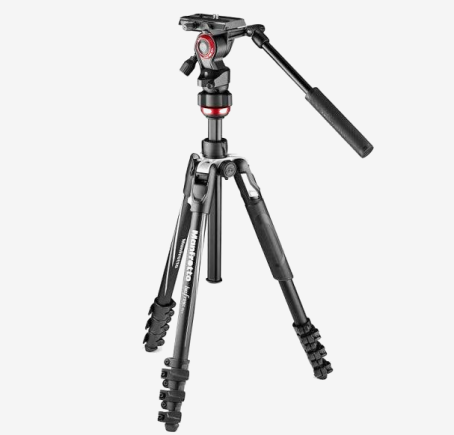 By far the most expensive tripod on our list, the Gitzo GK1545T Series 1 tripod comes built to last forever. You get a top-quality tripod coupled with a compact support system that has the legs fold around the centre. The carbon fibre is also very light, and it's a good option for people who do a lot of switching between high-level and macro shots. This is an extremely high-end tripod, but for those who have the budget for it, it absolutely will not disappoint.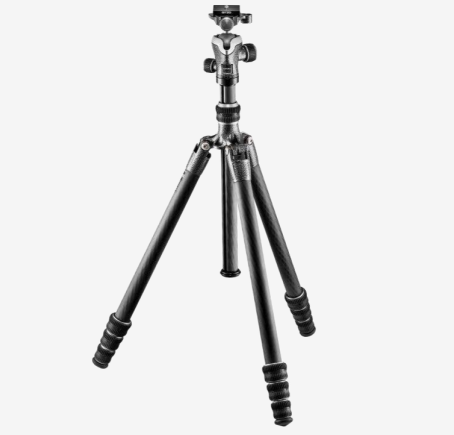 A jack-of-all-trades, this is an excellent multipurpose tripod at a very affordable price point. It's well built for what you pay for it, and the legs can be positioned at a variety of angles. The rubber feet give it a non-slip grip on slippery surfaces, and this makes it a good option for nature and portrait photography.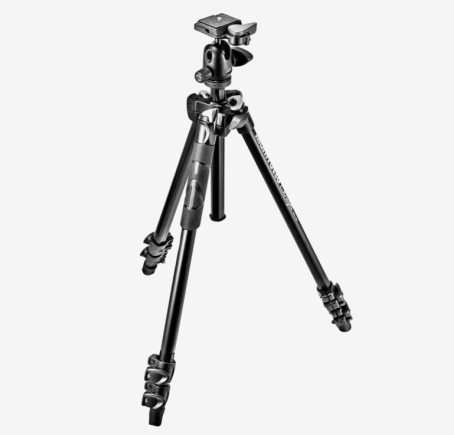 Best suited for photography that requires heavier or bulkier gear, this beefier tripod features a very sturdy design. It has a load capacity of 10 kgs, so it will be at home supporting larger camera systems. It is a carbon fibre tripod, which reduces it's weight. You can also remove one of the legs to turn it into a monopod, which is useful for for sports or event shooting.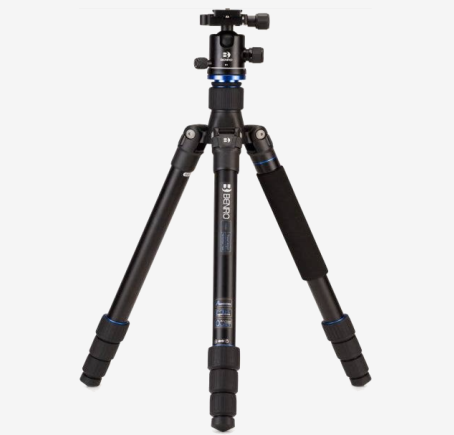 Contact digiDirect Today!
We hoped this guide helped. If you are in the market for a new tripod, we invite you to reach out and get in touch today! We have a huge selection of tripods and tripod accessories available, and we're happy to help you find the best tripod to suit your photography style. All you need do is contact us today to get started!