When you want a fun, inexpensive camera with a unique look, an instant camera is one of your best options. Smartphones may have revolutionised the way we take and share photographs, but instant cameras bring charm and a certain appeal that keeps them popular, even today. It's a good idea to know the core features, fun extras and what makes an instant camera so fun to shoot with. We'll outline all of this below.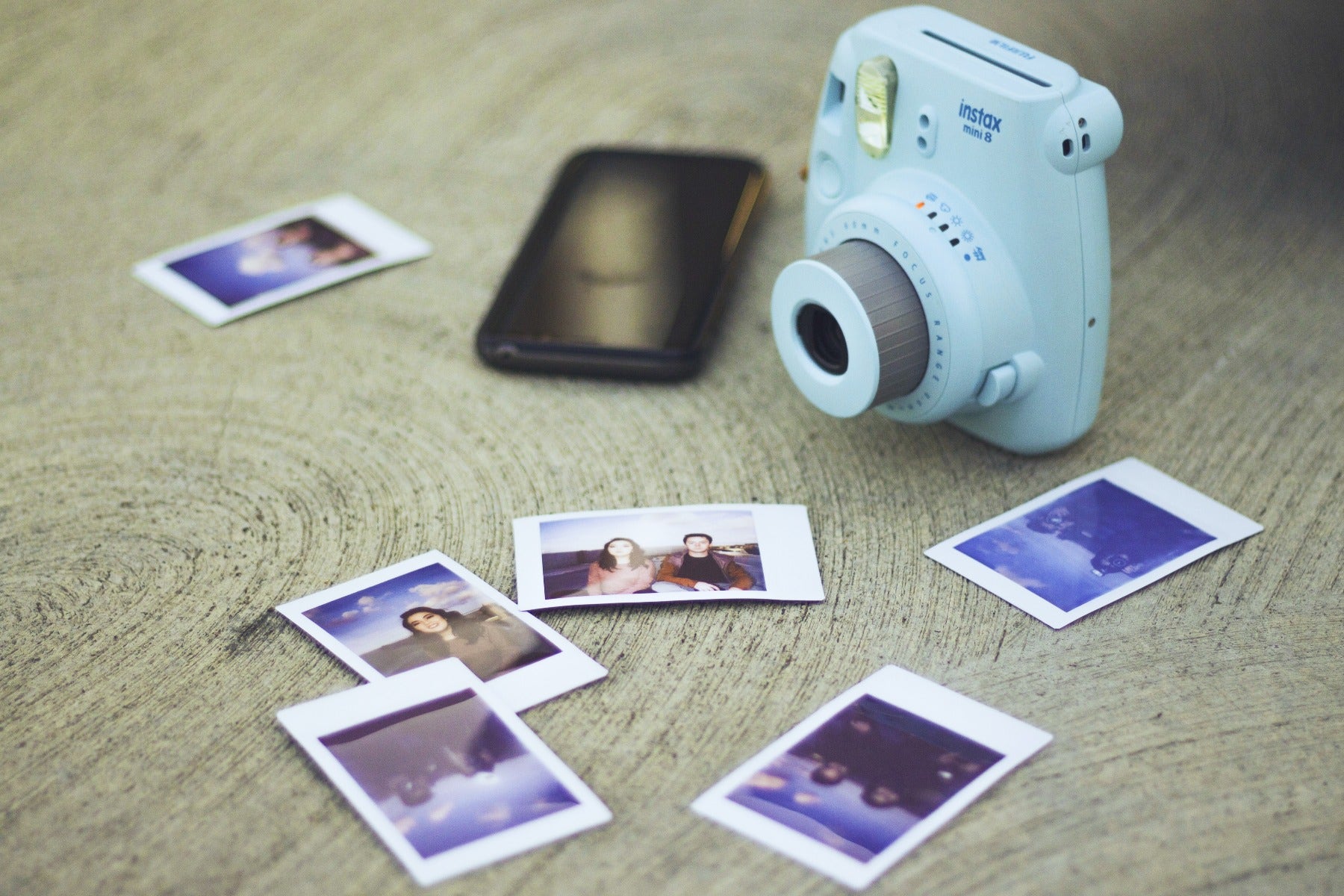 Instant cameras are a fun and easy way to take photos with a unique look
What Defines an Instant Camera?
An instant camera is a camera fitted with internal development mechanisms and self-developing film. This film allows you to access images seconds after you take the photo and includes all of the chemicals that you need to develop the film once you shoot it. When you snap the picture, a small pod of these chemicals breaks open to begin the process, or specialised rollers draw the picture out of the camera and add the developing chemicals at this time.
Instant cameras are popular because of their immediacy, and because of the unique, classic effect of the finished picture. Each photograph you take has an iconic look that defines the product of an instant camera.
Instant cameras are great for spontaneous shoots with friends and typically come in multiple colours
Core Features and Specifications for an Instant Camera
No matter which type of instant camera you pick, there are a few core features and specifications you should keep in mind. This will help you get a fun and functional camera that you can't wait to experiment with.
Photo Size
Instant camera film comes in a variety of different sizes, and you'll want to choose the format that you like the best. This will dictate which camera you purchase as each instant camera can typically only print one size of film. We'll discuss film sizing in more detail a bit later on.
Selfie Mirror
While instant cameras typically don't come with a flip-out screen for selfies, many of them feature a very small mirror placed near the lens. This can be used to approximately position yourself correctly in the frame when taking a selfie. If you plan on taking selfies with your instant camera, you might want a model that has this feature.
Shutter Speed
Many basic instant cameras, like the popular Instax Mini 11, come with a fixed shutter speed of 1/60-second. This is a good all-round shutter speed that will reduce the amount of blur while also trying to maximise light gathering potential to produce clean images. However, some higher-end instant cameras, like the Instax WIDE 300 allow a wider range of possible shutter speeds, which more advanced photographers may find useful in different situations.

Tripod Socket
Even though it's an instant camera, experiment by mounting it on a tripod to shoot flawless landscape pictures or timed group selfies. Look for a tripod mount built into the bottom your camera so that you mount your camera on tripods or monopods.

In-Camera Editing
Some of the more advanced instant cameras, like the Fujifilm Instax LiPlay and Instax Square SQ20, actually capture digital photos. This allows you to apply filters and frames to your photo, review the photos before selecting which ones to print out, or even reprint photos.
Size
Instant cameras come in a variety of sizes ranging from the tiny up to heavier duty models. This size will determine how portable your camera is, for times you need to carry it around or pack it up and go. Also, consider any parts that could make it more challenging to carry, like an extending flash.
Brand
You may be tempted to purchase an instant camera from a less established brand to save money, but this can make it harder to get a repair or replacement if something does go wrong. Instead, do some research and pick a brand that has a reputation for quality products. Fujifilm and Polaroid are the main instant camera manufacturers today, as discussed in more detail below. 

Fujifilm and Polaroid are the main producers of instant cameras
Other Features to Consider
Along with the features that come as standard on instant cameras, there are many additional or extra features available. They're designed to make it easier to use your camera to achieve clear and bright photographs, as well as to maximise ease-of-use.

Bluetooth - The ability to hook up your instant camera to a computer using Bluetooth allows you to have a backup of your favourite photographs, and you can automatically send your photos to a Bluetooth printer to get larger sizes. Additionally, Bluetooth lets you instantly transfer your photographs to a larger device for editing and balancing. 

Flash Units - Having a flash unit with your instant camera ensures that you'll be able to shoot in a variety of lighting conditions without worrying about your photographs turning out too dark. You may have a built-in flash on your instant camera, or you can buy one separately and use it remotely.

Self-Timers - Maybe you want to be in the photograph too! A self-timer lets you pick a countdown length, position yourself in front of the camera, and the camera will automatically go off when it reaches the mark. This feature is getting very popular and is a great way to capture those larger group shots.

Different Modes - Photographers value versatility and you may want to take a wider-angle shot or a selfie with your camera. There are instant cameras on the market that come with different modes, which you can set to change the focus including Selfie Mode, Landscape Mode, Macro Mode and Hi-Key Mode. Not all instant cameras have these modes, so research the model you're interested in to ensure it has the features important to you.

There are a wide variety of instant cameras that sport different features and utilise different film sizes 
Photo Sizing
Instant cameras can take a variety of film sizes. Your personal preference will dictate which photo size is best.
Mini (62mm x 46mm) - The mini film type is the most common film size and will result in

 

photos that are about the size of a credit card. The Fujifilm Instax Mini 11 and

Instax LiPlay

are among the cameras that use this film size.

Wide (62mm x 99mm) - The wide film type is great for photographers who want to take more panoramic shots with their instant camera. They're roughly double the width of the mini film while maintaining the same height. However, the cameras are usually larger and heavier as a result of managing this wider film size. The

Fujifilm Instax WIDE 300

camera uses this film size.

Square (62mm x 62mm) - These photos print out in a perfect square, just like the old-school instant cameras produced. They bring an instant feel of nostalgia, but they can be slightly more difficult to centre and frame for each shot. The Fujifilm Instax Square SQ20 camera uses this film size.

On an important note, you have to understand that not all cameras have the compatibility to work with the different types and sizes of photo paper. This means that if you have your heart set on shooting with Square film, you need to make sure that your instant camera can support the Square film size.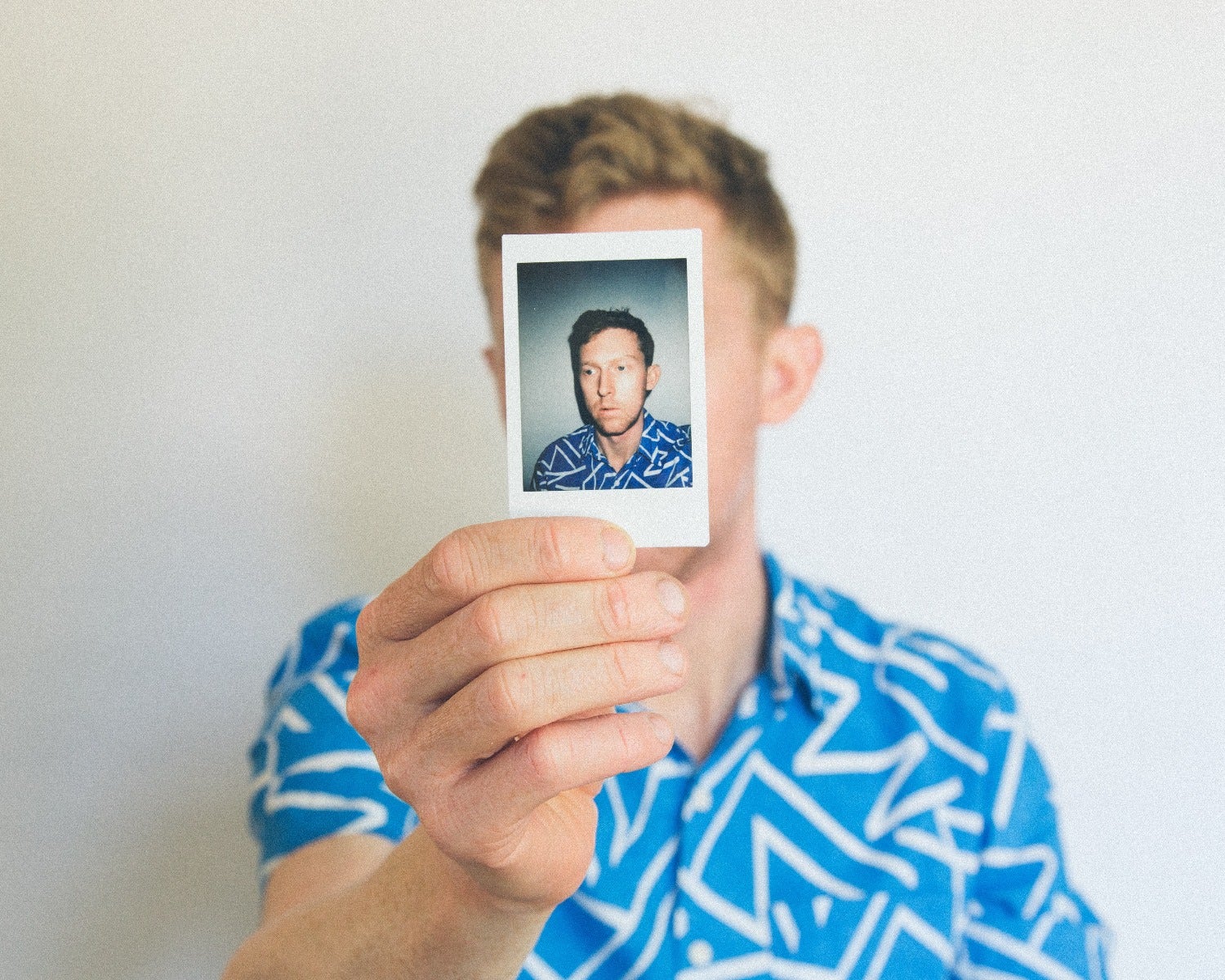 Instax mini film, shown here, is about the size of a credit card
Top Instant Camera Manufacturers
Although instant cameras are fun to have, you still want to make sure you get them from a reputable manufacturer that is easy to contact if something goes wrong. Two leading instant camera manufacturers include: 
Fujifilm
Fujifilm is one of the oldest camera manufacturers in the world and has its base in Tokyo. They are industry leaders when it comes to the production, sales, servicing and development of cameras, photo finishing equipment, printers, colour films, optical devices and much more. The Fujifilm Instax Camera line is extremely popular, and so are all their film and other high-quality camera accessories. Their offerings range from the inexpensive but mega-popular Instax mini 11 line to the LiPlay, a hybrid digital/instant camera.
Polaroid
Polaroid is also an extremely long-lived and reputable camera and film company. Polaroid has a reputation for quality cameras, film, tripods, speakers, televisions and more. Originally founded in 1937, this American company produces a broad range of instant cameras ranging from modern to retro looks. In 2008, Polaroid almost discontinued their instant camera line in light of the rise of digital photography but decided against this as demand in the market began to increase. Polaroid's main instant cameras these days are the Polaroid Snap and Polaroid OneStep.
Lomography
Lomography is a boutique company that makes a range of stylish instant cameras that generally come with the option to change lenses and filters, something not present in most instant cameras. Lomography cameras come in a wide range of options, and may even include extra flashes. Look to Lomography if style is an appealing factor for you.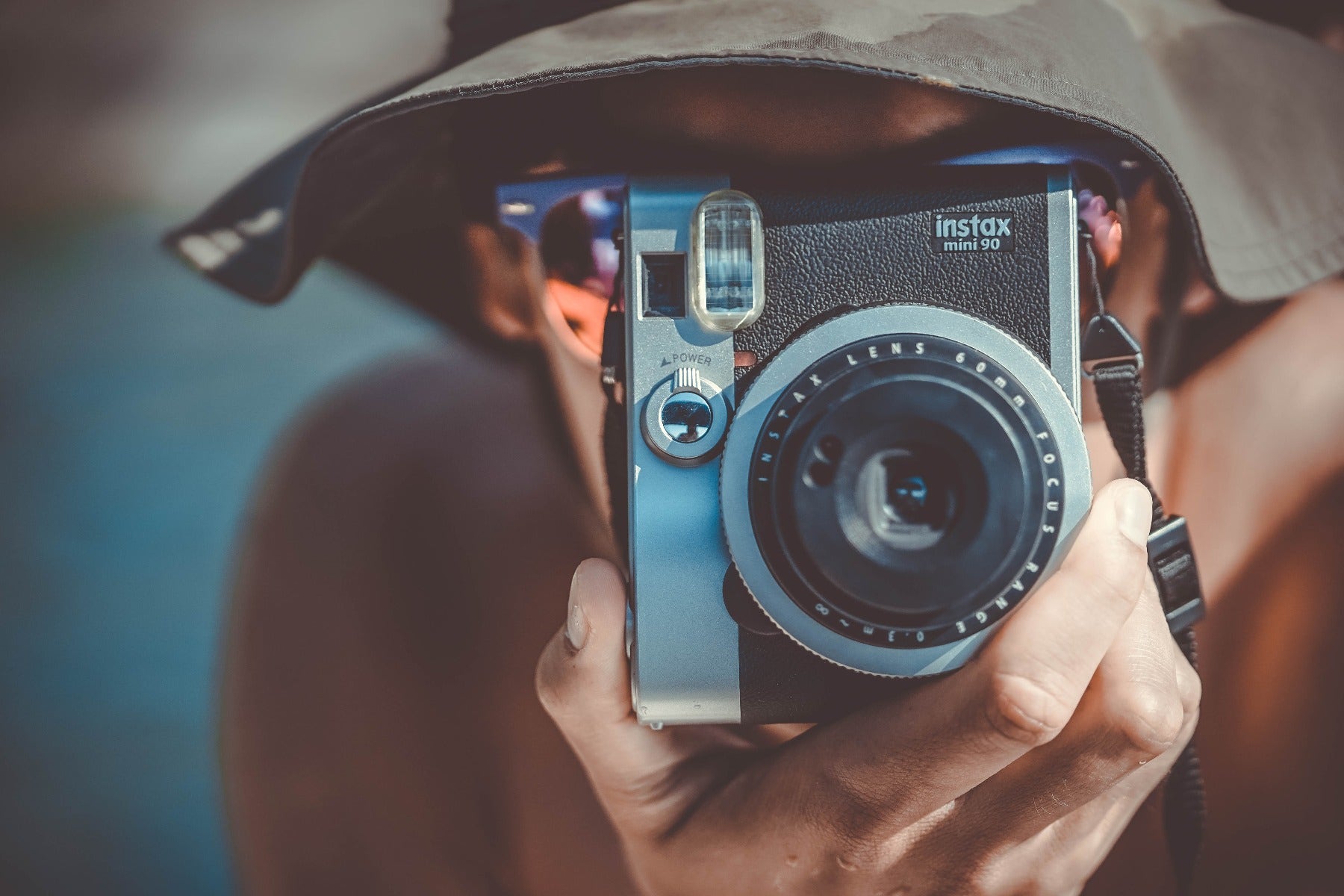 The Fujifilm Instax Mini 90 is a more advanced instant camera that has multiple shooting modes, brightness controls, and a 60mm lens
Fujifilm SP-3 Printer
Finally, if you like the look and feel of photos taken on an instant camera but aren't married to the idea of buying a whole new (albeit inexpensive) camera, the Fujifilm Instax SHARE SP-3 printer might interest you. This lets you take a photo on your smartphone or tablet via the Fufjfilm Instax SHARE app and send the photos to the printer via Wi-Fi. The printer will then print the images on Instax Mini paper!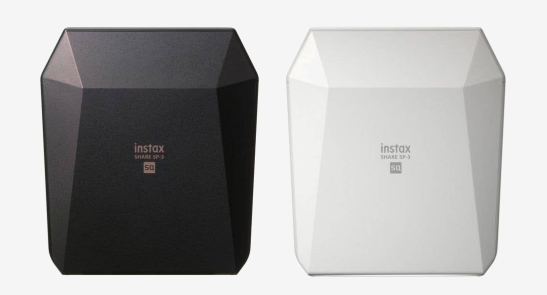 The Fujifilm SP-3 printer turns your smartphone into an instant camera 

Contact digiDirect Today!
Are you looking for a new instant camera? Maybe you have one already, and you have a few questions about getting the best out of it. Either way, our staff are on-hand and ready to help you in any way they can! All you need do is reach out and contact us via our contact form, by giving us a call, or by visiting your local digiDirect store. We'll answer your questions, address your concerns and we can even help you pick out a new instant camera from our exclusive stock of both beginner and professional options.

{{widget type="Magento\CatalogWidget\Block\Product\ProductsList" show_pager="0" products_count="30" template="Magento_CatalogWidget::product/widget/content/grid.phtml" conditions_encoded="^[`1`:^[`type`:`Magento||CatalogWidget||Model||Rule||Condition||Combine`,`aggregator`:`all`,`value`:`1`,`new_child`:``^],`1--1`:^[`type`:`Magento||CatalogWidget||Model||Rule||Condition||Product`,`attribute`:`sku`,`operator`:`()`,`value`:`128735,128259,122660,127548,127552,109947,128736,118738,128260,127551,130542,132207,132206,124815,129584,129583,133067,133066,133984,126769,121129`^]^]" type_name="Catalog Products List"}}