Written by
Cam Blake
Cam Blake is a leading landscape and wilderness photographer from Tasmania. His work has featured in Australia Geographic, WILD outdoor magazine, Olympus Australia and many more. He lives in Tasmania and conducts multi-day photography tours throughout the beautiful island of Tasmania. Learn more about what Cameron does at his
website
.
For every image we produce there is always some kind of back-story or inspiration behind the final image. Sometimes this just comes naturally from your adventures, other times it is driven by another artist you are inspired by. Either way, every image needs a back-story. As they say, a picture tells a thousand words and your images should too. Today I'll be telling the stories behind three of my most recent - and favourite - images I have captured in my travels.
Artist's Pool
We'll start in my own backyard here in Tasmania. One of my favourite places to take my camera and walking boots is Cradle Mountain National Park. Located in the north west of Tasmania, this park offers so much in the way of photography opportunities. It also holds a large amount of history and stories backdating to the 1800's. Whether it was stories of the very early explorers, stories of animal trappers, or more, there are stories and history everywhere you look. You don't have to go too far to find some very interesting locations in the park to capture and inspire you.
This first image was one that took some time to plan and capture, but it was the planning that made this shot so special to me. I first laid eyes on the Artists Pool over the back of Cradle Mountain via another brilliant photographer here in Tasmania, Ian Wallace. Ian and his fellow photographer mate Tom Putt hiked over the back of the mountain some years ago and the images from this trip have always inspired me to go there for myself and capture this pretty little tarn area. Their story was one of hiking through blizzards and crazy winter conditions to get to this beautiful little tarn.
It was my plan to capture images of the Artists Pool in similar, if not worse conditions. I have always believed that the more wild the weather, the more wild the photograph. It took me close to 4 years to get the exact conditions and timing I desired. The weather that day at Cradle was predicted to be epic snow conditions with mostly light winds; perfect for the fully snow covered scene I was aiming for. So I packed the car in Hobart and drove the 4 hours to Cradle Mountain well before sunrise on this particular day.
Arriving at Cradle Mountain just at day break I prepared my gear; mostly consisting of very warm clothing and hiking poles, and spikes for the icy sections of the 2.5 hour hike over the back over Cradle Mountain. It was -4 Celsius and completely bucketing down snow. absolutely perfect! There is something so magical about walking in the snow; even though the conditions can be quite trying, the sense of isolation and remoteness is a really amazing feeling. You really feel like you have the place to yourself. 
After what felt like more then 2.5 hours I reached the Artist pPool tarn, located just a few kilometers from the main car park of Cradle Mountain. Arriving at the Pool I was startled by a group of hikers, four in total, making their way along their last part of their Overland Track journey (which is a hike of 6 days from the southern end of the park to Cradle Mountain in the northern end).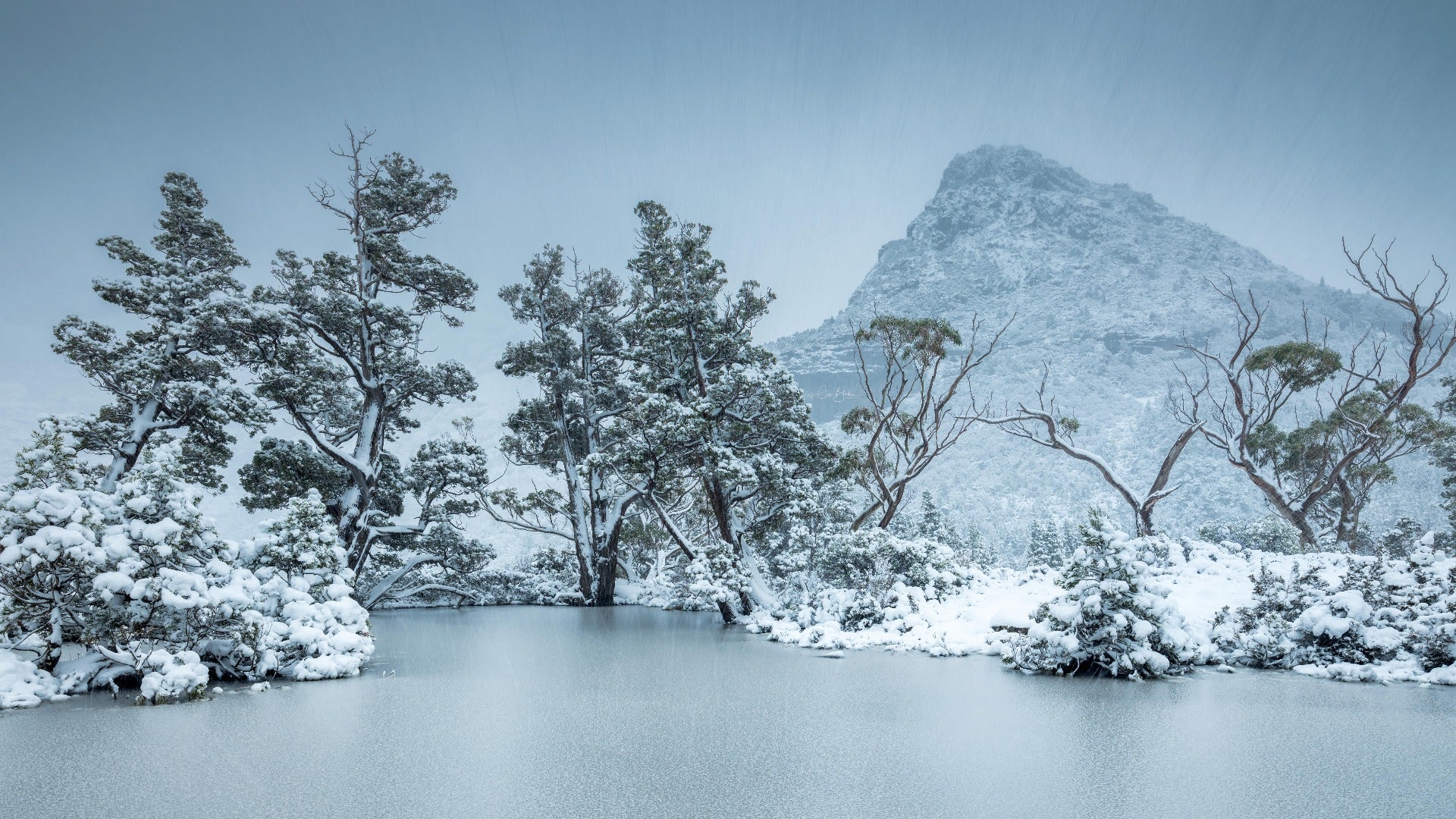 A photo that took 4 years to capture with the correct weather that I had in mind
For a moment I was concerned that this perfect moment might be shattered with this group arriving with cameras in hand. What happened next only adds to the story behind this image and one that I will be forever grateful for. As the hikers approached I was setting up my tripod in the blizzard like conditions. The wind had picked up and the snow was absolutely bucketing down. It was amazing!
The hikers made their way towards me, well aware of the fact that we were for sure the only crazy people in the park in these conditions. They stopped one by one as they passed, all admiring the scene I was about to capture. And thankfully, they all made it very clear that they were not going to ruin my experience and the effort that I had made to get to this point! They all congratulated me on being in the right place at the right time and proceeded along their last leg of their journey. Even though I encouraged them to stop and take a shot of the pool, they all gracefully declined and stated that they couldn't take away what was such a special moment to me. I thanked them sincerely as they continued on.
I was stunned by their generosity and those few moments stick with me more than the hike to the scene does! Amazing people only add to my story and experience behind this shot. 
Rock Island Bend
This next image really shouldn't need any introduction, as this location is one of Australian political significance and environmental importance. The late, great and very inspirational Peter Dombrovskis made this location famous through his 5x4 inch large format film camera in the late 1970's. Peter was a Tasmanian wilderness and landscape photographer who single-handedly changed the way Australian politics and environmental issues are viewed by the public through the lens of the very powerful and controversial attempt to dam the Franklin River, located deep within the wild western regions of Tasmania.
This story started many years ago for me - in the late 1990s to be precise - when I first visited Tasmania. Whilst travelling I came across the story and history of the Franklin River; a wild and totally untamed river that runs through the heart of the World Heritage region of Tasmania. It was along this river that Peter captured his now famous image, Rock Island Bend. A simple but overwhelmingly powerful image that captured the true spirit and wild nature of this river system, which at the time was under severe threat of being dammed and destroyed forever by the Tasmanian government. I won't go into the whole history and story of this image and river, but I would certainly recommend all readers to look up the story behind the Rock Island Bend image and how this became such an important part of Australian photography. 
What makes this image so special to me, coupled with the amazing story and history behind the exact location, are the efforts it would take an individual, rafting solo, to get to the point of the river. This point of the Franklin River I have been very lucky to now have visited to 3 times, and each time it is after a number of days busting my behind rafting down this mighty river. Approximately five days into your journey down the river you are rewarded with this slice of Australian history. Right there, right on the river. It appears after one of the river's most violent rapids, and has mighty waterfalls falling just off to the right of frame.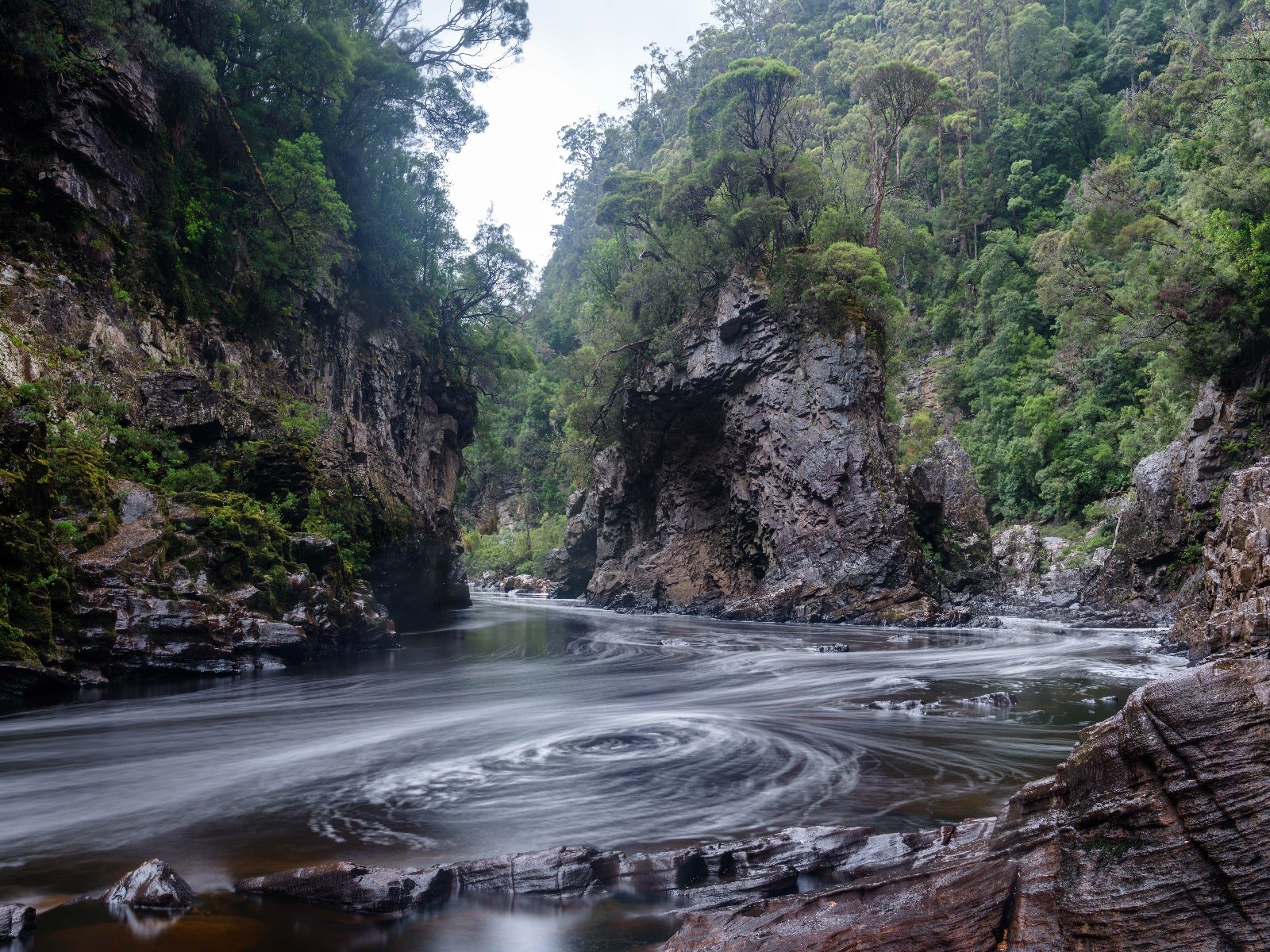 My version of the classic Rock Island Bend image
This image was captured on my most recent trip down the river where I and the Franklin River Rafting Company hosted 6 other photographers for an epic 8-day photography trip. We were rewarded with almost identical conditions that Peter would have received all the way back in 1979; a cold morning, a bit of fog and the sun making its way through the rising fog of the river. It was a perfect moment and one that brought many a tear to my guests eyes, some who never though they would ever get to capture this scene in the flesh, a very special moment that will once again live with me for many years to come. We are heading down the river again this December.
Thank you Peter Dombrovskis for your inspiration and passion.
The Breath
The last image I wish to share is one of my favourite images that I have ever taken. It holds a special place in my portfolio, not because of the image itself, but more so the story behind the shot. This was a classic example of being in the right place at the right time. or was it? I'll explain.
This image was taken over Lake Pedder in Tasmania's deep south west right at sunset. The weather was closing in and it was bitterly cold. I was at this lake shooting some of the very dramatic mountain ranges that are 180 degrees east of this actual photograph. As the sun was setting I turned my camera towards the sunlight breaking through the rain and was lucky enough to capture this image. The reason I say this may have not been a case of right place, right time, is because I have an almost identical image taken from the exact same spot 6 years prior; almost to the exact same day.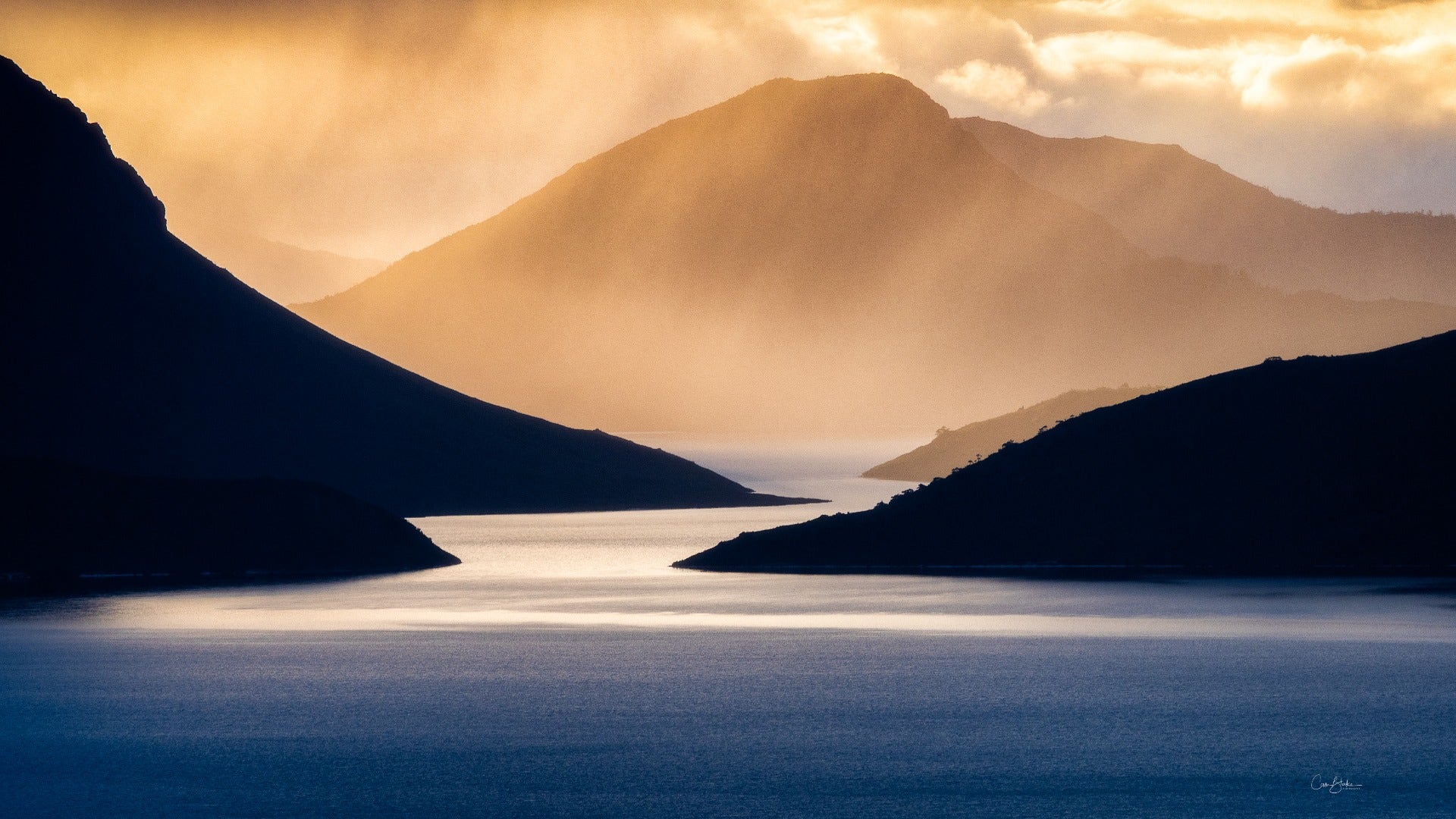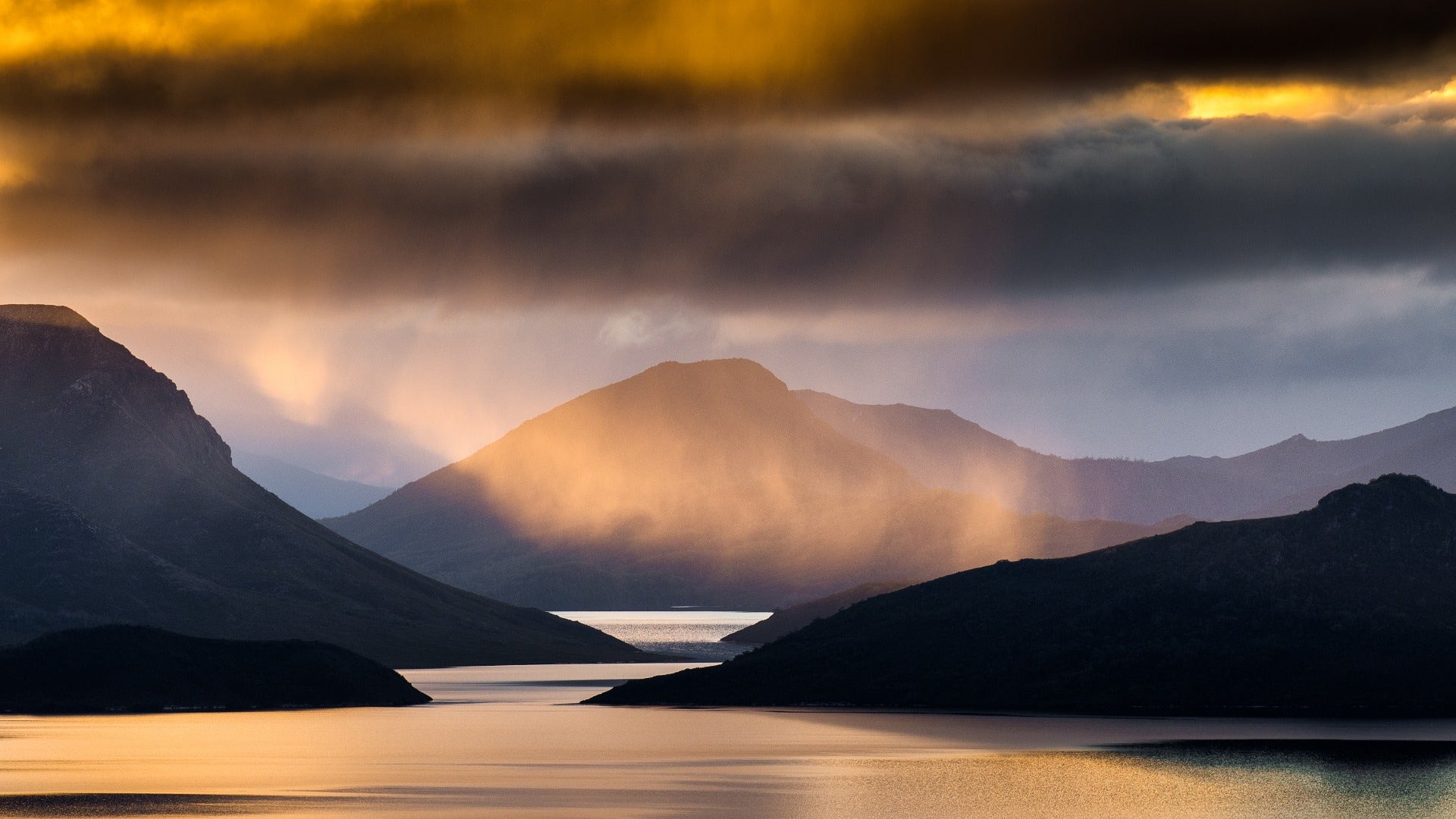 Above: Lake Pedder on a stormy evening
Below: An almost identical image taken 6 years earlier


To say history repeats would be spot on in this example. Back in 2013 I captured the identical image out of pure luck. I was the only soul within miles of this scene and when I went to change my lens and turned around I caught a glimpse of this incredible view. To be able to stand in the exact spot 6 years later, almost on the same day and see the weather and conditions repeat was mind-blowing. This time I wasn't alone however, I was with some mates out shooting and we all watched in awe as the sun danced its way through the rain and onto the lake. It was an incredible 10 minutes watching this sunset over the lake.
It was also a significant shot due to the exact location of these sunbeams breaking through. Back in the 1970's, Lake Pedder was created by another controversial decision by the government of Tasmania. Flooded to provide hydropower to the entire state of Tasmania, the original lake was regarded as a natural wonder, with its crystal clear waters and pink granite beach that was a draw card for many hikers and visitors alike. The original Lake now sits under metres of water, right at the end of this inlet where the sun is shining. Some have said it's the spirit of Lake Pedder shining a light on it troubled and controversial past.

Interested in contributing to the digiLife blog? Email community@digidirect.com.au with the subject line "digiLife Contributor", and include links to your photography portfolio and a writing sample.