Packing luggage for a holiday can be a challenge at the best of times. Especially when you are trying to meet an airline's weight limit or trying to determine the climate in another part of the world. You have so many choices to make to ensure that you are comfortable, dry and safe while having all that you may need.        
Packing for a trip with camera gear is no different. There are many considerations to keep in mind to ensure that you can achieve your photography goals and not feel overburdened by your equipment. In this article, we guide you through some of the essential travel tips for your next photographic holiday.
First Things First
The first question to ask yourself is what type of trip are you planning? Is this going to be a pure photographic dream holiday such as travelling to a ruggedly beautiful country like Iceland or a safari trip to Africa? If so, then you are going to have to pack quite a bit of camera gear. And it will likely include a variety of lenses. On such a trip, you would also need to consider additional batteries, memory cards, and charging options. That could also include international power adapters or a charging bank. These all take up room, and you will need to have the right bag to accommodate and protect them, but we will get to that in a little bit.
Alternatively, you may be taking a more sedate but equally fascinating journey to a city such as Tokyo or New York. And if street photography is your thing, then you want to avoid being impacted by excessive gear. You want to be free to walk the streets for hours and be far more discreet than the guy lugging all that gear to Africa! Deciding what gear to bring on your trip, in this case, is far more manageable. A premium compact camera with a built-in zoom and good low light performance is ideal. A camera that you can throw into your day pack or sling, along with your spare battery, passport and water bottle.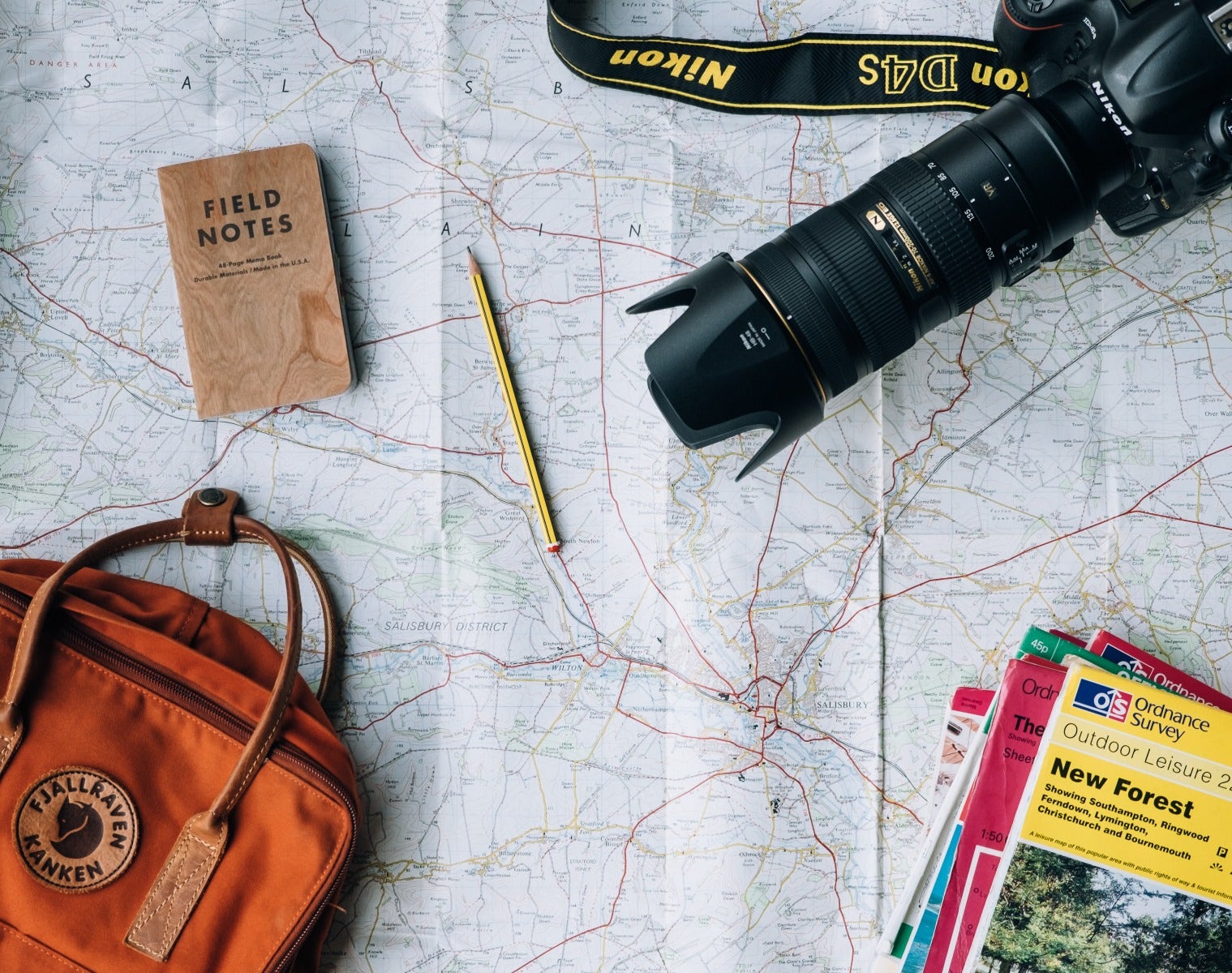 Is your trip a dedicated photo experience? Or do you just want to take some happy snaps to remember the holiday? Understand the photographic goals of your vacation will inform your packing decisions
Choosing the Right Camera and Lenses

 
Once you have decided what type of a photographic holiday you are undertaking, then we suggest you lay out all of your gear in the one place. All of it! You need to remember that every piece of equipment you take you have to carry and the more weight you carry, the more fatigued you will become. There is nothing worse than being distracted by the amount of gear you are carrying and not enjoying the opportunity before you. So we suggest you start by laying out everything that you would like to bring, and then start to remove items that are not critical. Ask yourself - do you really need to take those two prime lenses, or can you get by with your zoom that covers a similar range? Of course, prime lenses have their own advantages, but you have to determine if they are necessary for the specific nature of this trip. Weight-wise, one zoom may be an improvement over multiple primes, so if you can get away with it you could save a considerable amount of weight.        
Extreme Range

     
Going back to our example of a safari in Africa, or any similar trip where wildlife is going to be a key focus, a short focal zoom may not cut it. You may require a zoom with a greater reach to  capture wildlife in the distance. You don't want to find yourself in the middle of Africa and not be able to capture any great shots because your zoom does not reach. This can come at a price however, as longer zooms generally mean a larger and heavier lens, which may become difficult to pack.

Consider an alternative. Investing in a superzoom camera may be the most affordable and lightweight way to fit extreme zoom into your luggage. For example, the Nikon P1000 has a 24-3000mm zoom range. Not only is that a longer range than even the longest lens will offer, it is only about the size of a DSLR with a standard lens. Granted, it is a 1/2.3" sensor, not full frame, but in terms of weight, reach and cost, it offers a way to get extreme range that will fit in your luggage.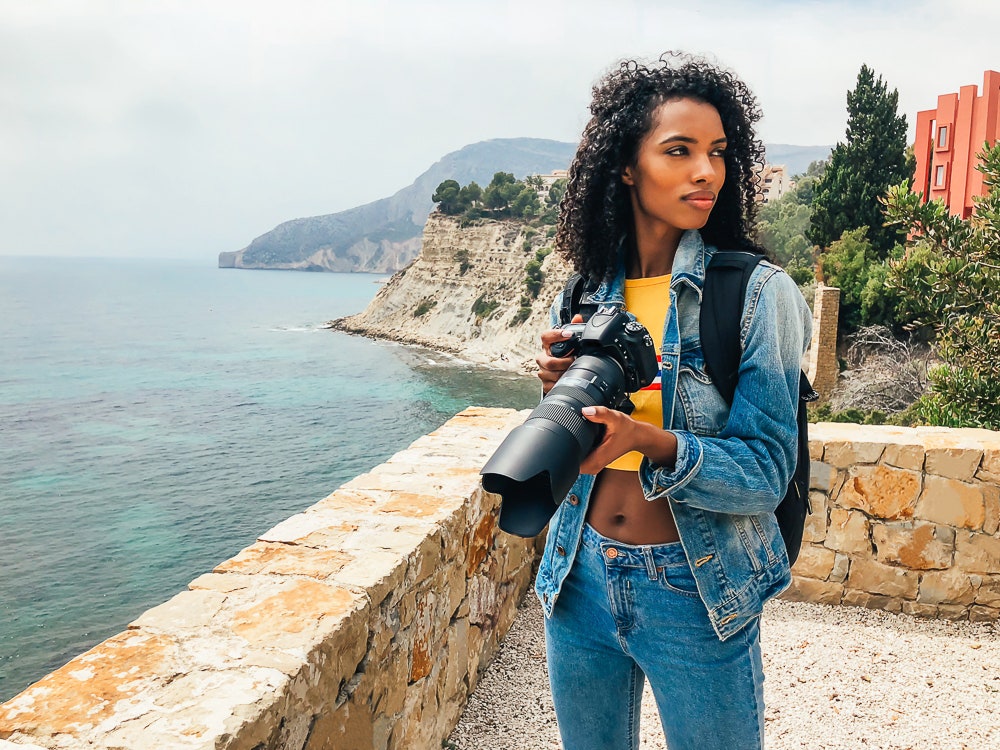 Long telephoto lenses are very useful, but they can also be quite bulky. There may be other solutions
Going Stealth

     
At the other end of the scale, you can carry limited gear. By design, premium compact cameras meet most photography needs. Such a camera is especially handy for taking on holidays as they take up little room and are discreet. One such example is the Sony RX100 VII. This camera is the latest generation in a series of award-winning compact cameras. This camera would meet most travel demands as it packs a 24-200mm zoom and can shoot in 4K video. In terms of weight, with a couple of spare batteries, this kit will not weigh you down at all, and it easily fits in a purse or carry bag.        
Check the Weather
Before you head off on your adventure, we strongly recommend you have a good understanding of the climate in your destination at the time of year you are visiting. Not just to know what clothing to pack, but to also know how the weather affects your gear. If you are travelling to a cold climate, be aware of the lowest temperature your camera can withstand. Alternatively, if you're traveling to a rainy climate, it is important to know if your camera and lenses are weathersealed or not. If not, there are solutions, but you need to be aware of the need for them.
What About Accessories?
Batteries
When we mentioned earlier to lay out all of your camera gear, we also meant to lay out the accessories too. The most important of which is your power source. Imagine being out on safari, and your battery dies? To combat that, you should consider packing spare batteries, and a means to charge them. If you are travelling overseas, then you also need to include a power adaptor suited for the countries you are going to. Overall, we recommend that having a total of three batteries is a good starting point.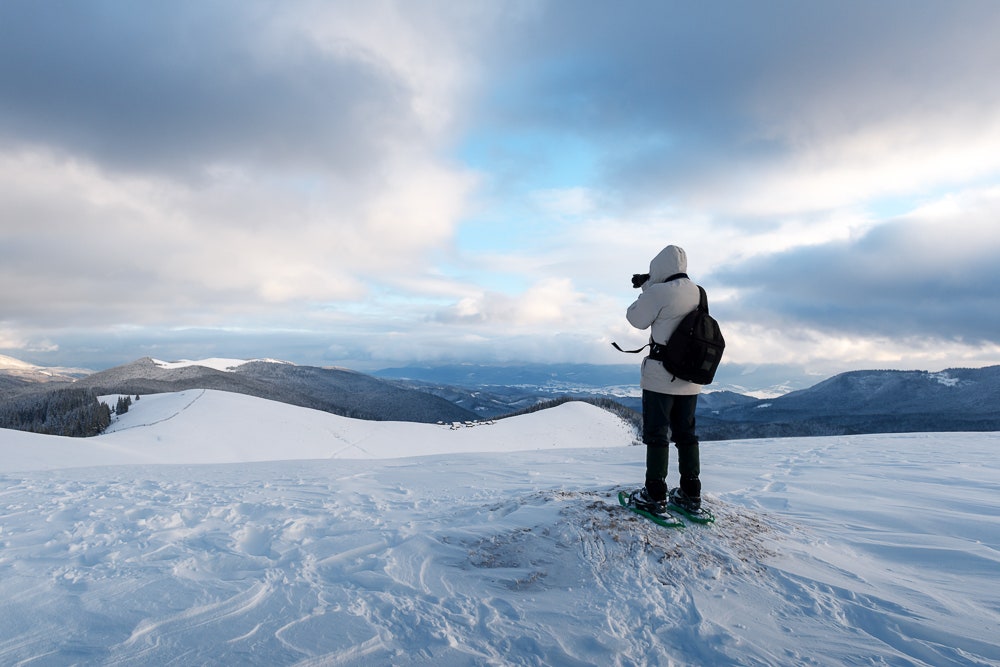 Be aware of the weather conditions where you are visiting and how that might impact your camera gear
Power banks

     
Most current model cameras can charge via a USB cable. If this is the case with your camera, then ensure to pack this cable. Another handy addition is to invest in a quality power bank. A power bank is a portable battery that allows you to charge a range of devices via a USB port. Power banks are handy for topping up your mobile phone and in many cases your camera. They are a handy travel accessory in general and a worthy investment.
Memory cards
As with batteries, you should always pack additional memory cards. You don't want to find yourself in the middle of Tokyo and trying to find a camera store because you filled up your memory card. Even worse is if you only bring one card, fill it with photos, and then an accident happens that damages the card. All of your photos will be lost! A better option is to have a few different cards and rotate them, even it they aren't totally full.
Another handy accessory to take is a memory card wallet or storage container. This will protect your full and new memory cards from damage, weather and loss. Before you start your holiday, make sure you format all of your memory cards in-camera so that they are fresh and ready to capture your adventures.
Tripods and Gimbals
Depending on the style of photography journey you are about to undertake, you may consider the need to take a tripod, monopod or gimbal. Tripods come in all shapes and sizes. They can be compact and made from lightweight materials such as carbon fibre. A tripod can be great for landscape photography and allows for long exposure work. Monopods allow for a more stable purchase on your camera when framing your composition. Regardless of your preference, tripods and monopods are significant in size and can add considerable weight and bulk to your kit. You probably won't be able to fit a full-size tripod, but you may be able to make room for a lightweight travel tripod, like the Manfrotto Befree.
Much smaller pocketable tripods may not have the support of a full-size tripod, but they can be used in a variety of situations and are lightweight and compact. They are small enough to fit in a carry-on back or backpack. A flexible Joby Gorillapod tripod is the most popular form of compact tripod.
A flexible tripod can significantly reduce your weight and allow for creative positioning
Gimbals are generally used for video recording as they provide a stable and level means to carry your camera. If video is your thing, then this is certainly a worthy consideration as it will provide you with smooth non-shaky video from various angles. However, gimbals can be bulky and heavy and will require a power source of their own. Again, this is another weight consideration for your overall kit.
Miscellaneous
We recommend a couple of other pieces of kit that can prove to be invaluable when deciding what gear to bring on your next trip. The first of which is a simple cleaning kit that includes a brush, non-alcoholic cleaning solution and a good quality lens cloth. If you plan on being out at night or in dark locations, then a small pocket torch is handy to have. Also, remember to include all of your cables and cords for charging all of your devices. We recommend charing everything overnight while you rest and that way you will have a full set of charged batteries ready for the next day.      
Choosing the Right Camera Bag
The most important element of deciding what gear to bring on your next trip is to have a suitable bag to carry and protect your equipment. Your bag has to fit all of your gear securely so that it can endure all forms of transport. No point complaining of a damaged lens if you left it just rolling around in the bottom of your bag. A good quality camera bag will include movable inserts that allow you to adjust the padding specifically to suit your pieces. Where possible, don't have individual pieces touching one another. Your bag also needs to have organisation pockets to allow you to store your accessories and basic travel amenities such as passport, wallet/purse, etc. An excellent example of such a bag is the Lowepro Protactic backpack, which is an incredibly durable and comfortable option for travelling with camera gear.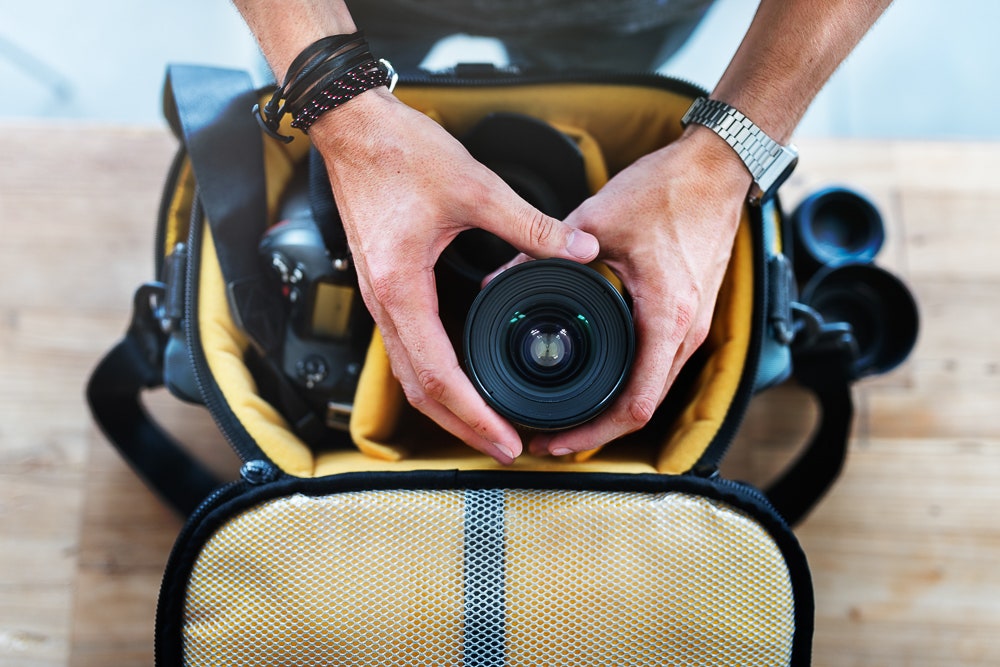 One of the most important aspects of packing for a trip is choosing the right bag!
Long-Distance
If you are looking to do hiking or more strenuous activity, a proper bag becomes even more important. It needs to be comfortable to carry, and you probably also need your bag to fit whatever other necessities you are bringing on the hike, so it needs to carry non-camera gear as well. For this we recommend F-Stop bags. They are rugged backpacks meant for the adventurous photographer, with lots of straps, support and strong materials. Also, instead of coming prepackaged with camera slots, instead you purchase different sized ICUs to fit inside the bag. This means the ICU can fit in part of the backpack, while the rest of the backpack is free to fit your other hiking essentials.
Carrying Compact Gear
At the other end of the scale, if you are carrying a compact camera or a minimal kit, then you have a range of options available. Whether you are looking for a sling, backpack, or other type of bag, there are many options. One consideration could be whether the camera bag looks like a camera bag. When visiting more crime-prone areas, it could be worthwhile to look for a bag that doesn't look like a camera bag so as not to draw attention to the valuable gear inside.
What About the Airlines?
As we have made clear throughout this article, camera gear can be cumbersome, and we highly recommend never checking in your camera gear as under-carriage luggage on a flight. Your camera gear is probably costly and reasonably vital to you and your intended holiday. As a result, stay in control of your equipment the whole time. By keeping your gear in the cabin with you, you have full control of its safety and security. Keep in mind that this will come at a cost! You will need to ensure beforehand what limits airlines place on carry-on luggage and if there is the option to pay an additional fee for additional weight. Weigh your camera bag before and check with each carrier on their rules and fees for weight limitations. Best to pay in advance than be stung at the airport for excessive luggage and a higher cost.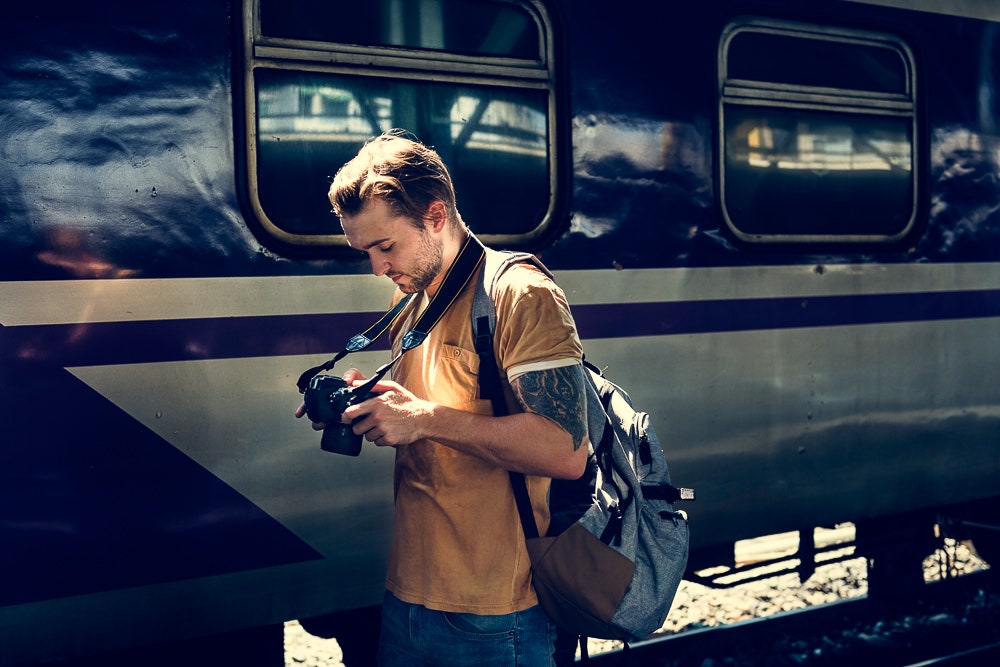 With a little thought, you can plan your gear so that your trip is a resounding success
Everybody loves to travel, and there is nothing more exceptional than a photographic holiday. Being out and about in the world with a camera in hand is freeing and fun. What's more, you will capture your memories in your unique way. By considering the points we have raised above, you will confidently choose what gear to bring on your next trip and ensures it's safety throughout your adventure. Happy travels.
If you're taking a trip soon and need to get some gear in order to travel smoothly, speak to the friendly staff at digiDirect! We can assist you with finding a compact kit that meets your needs. We also have lots of bags on display in store so you can test them out and try fitting your gear. Visit us today!