Buy the Legendary Canon EOS 5D Mark IV Body Online
The Canon EOS 5D Mark IV camera body's advanced 30MP full-frame sensor provides increased resolution and finer detail, enabling the capture of a wide range of scenes, from landscapes to portraits. Higher speed continuous shooting also offers expanded creative possibilities. The sensor's advanced architecture offers a huge native ISO range of 100-32,000, expandable to 102,400, making it possible to capture clean, high-quality pictures, even in extreme low-light conditions.
The Canon EOS 5D Mark IV builds on the reputation of the EOS 5D Mark IIIs video capabilities and now boasts 4K video performance.

Key Features

- 30.4 Megapixel full-frame sensor
- Advanced 61-point autofocus
- Up to 7fps continuous shooting
- Native ISO 100-32,000 sensitivity
- 4K video at up to 30 fps
- Dual DIGIC Image processors 6 & 6+
- Enhanced Weather sealing
- 8.11cm (3.2-inch) touch screen

The EOS 5D Mark IV utilises the same 61-point wide-area AF system as the flagship EOS-1D X, offering exceptional sensitivity, precision, and speed. One of the most advanced AF systems currently available. Now with improved low light performance, the 5D Mark IV is capable of accurate auto focus at up -3 EV.

Creative performance without compromise
The EOS 5D Mark IV features not one but 2 image processors, being a DIGIC 6 and Canon's latest DIGIC 6+ image processor, which powers a range of new functions while boosting the cameras performance.  The increased power of the dual image processors also enables a range of tools which contribute to higher image quality. Lens peripheral illumination correction, Lens chromatic aberration correction (lateral and axial) and high ISO noise reduction are all performed in-camera without affecting performance, allowing expert DSLR photographers to continue shooting without any camera lag. 
EOS 5D Mark IV 4K Movie Capture and Online Integration

The EOS 5D Mark IV builds on the reputation of the EOS 5D Mark III, with a range of new features introduced following feedback received from videographers to provide 4K video. Videographers can now shoot in the extremely hi-res DCI 4K format (4096x2160) to deliver video that will look gorgeous on any range of new 4K-capable monitors and televisions. Even if ultimately delivering in 1080p, shooting in 4K allows videographers to have more flexibility with their video, providing the extra resolution needed to reframe the shot or add zooms and pans in the editing stage. In addition, a new feature has been added to allow the ability to pull an 8MP still from a 4K video in-camera. The frame rate while shooting at 1080p has also been increased to a max of 60fps, while the frame rate at 720p is increased to a max of 120fps.

Dual Pixel RAW format
The EOS 5D Mark IV is the first camera in Canon's line-up to feature the ground-breaking new Dual Pixel RAW file format. An optional format for shooting photos, Dual Pixel RAW allows for a range of improvements over traditional RAW formats. Specifically, Dual Pixel RAW allows for Image Microadjustment, Bokeh Shift and Ghosting Reduction. Image Microadjustment will allow one to change the position of maximum sharpness and resolution using the depth information in the Dual Pixel RAW file, and can be used to improve critical focus. Bokeh shift allows repositioning of the viewpoint or foreground bokeh for a more pleasing result. Finally, Ghosting Reduction reduces the appearance of ghosting and flare in images.

Professional Canon 5D Build Quality and Easy Online Operation
The EOS 5D Mark IV has been built to offer photographers easy-handling and robust build quality. Its lightweight (60g lighter than the 5D Mark III), high-grade magnesium body offers advanced weather proofing for protection against the elements, while the strong construction of the shutter makes it ideal for repeated, everyday use. A new feature is the addition of a fully-fledged touchscreen which boasts such features as touch-to-focus, swipe, and pinch-to-zoom during playback and general touch menu navigation.
The USB port has been updated to a blazing fast USB 3 port, and the camera also includes a CF card slot plus an SD card slot which enables shooting to both cards simultaneously, auto switching when the one in use becomes full and the option to copy images from one card to the other in-camera. The Canon EOS 5D Mark IV body also includes the addition of built-in Wi-Fi for simple online sharing and GPS technology. Anti-flicker technology previously seen in the EOS 7D Mark II also makes its way into the EOS 5D Mark IV.


Contact us about the Canon 5D Mark IV
We know cameras like the back of our hand and can help with all of your questions and more. Speak to us about purchasing the Canon 5D Mark IV and you won't be disappointed. Reach out to our friendly team of experts or browse online to view our full range of products. The professional staff at digiDirect can offer advice that makes a difference. Speak to us about the latest technology advances for cameras, drones, spotting lenses and everything in between.   
Name
Value
Lens mount
Canon EF
Lens Mount
Canon EF
Camera Format
Full Frame
Effective Megapixels
30 Megapixel
Max Resolution
30.4 MP: 6720 x 4480
Sensor Size
CMOS, 36 x 24 mm
Bit Depth
14-Bit
Dust Reduction System
Yes
Memory Card Type
CompactFlash
SD
SDHC
SDXC
Media Type
SD & CF
Focus Mode
Continuous-Servo AF (C), Manual Focus (M), Single-servo AF (S)
Focus Type
Auto & Manual
Autofocus Points
Yes, 61
Focus Modes
Continuous-servo AF (C), Manual Focus (M), Single-servo AF (S)
Viewfinder Type
Pentaprism
Autofocus Points
61 point, 41 cross-type
LCD Screen Size
3.2"
Viewfinder
Pentaprism
Touch Screen
Yes
ISO Sensitivity
Auto, 100-32000 (Extended Mode: 50-102400)
Auto, 100 - 32000
Viewfinder coverage
100%
Shutter Speeds
Type: Electronic & Mechanical
Speed: 30 - 1/8000 Second , Bulb Mode
Metering Method
Evaluative Metering, Partial Metering, Spot Metering
Diopter adjustment range
- 3.0 to +1.0 m
Exposure Modes
Aperture Priority, Auto, Manual, Programmed Auto, Shutter Priority
Continuous Shooting Speed
Up to 7 fps at 30 MP for up to 21 Frames in Raw Format
Up to 7 fps at 30 MP for Unlimited Frames
Screen Coverage
100%
White Balance
Auto, Cloudy, Color Temperature, Custom, Daylight, Flash, Fluorescent (White), Shade, Tungsten
Dust Reduction System
Yes
ISO Sensitivity
Auto, 100-32000 (Extended Mode: 100-102400)
Built-in Flash
No
Shutter
30 - 1/8000 second, Bulb Mode
Max Sync Speed
Mechanical Shutter:1 / 200 Second
Remote Control
RC-6, RS-60E3, TC-80N3 (Optional)
Max Video Resolution
4096 x 2160p at 23.98, 24, 29.97 fps (500 Mbps M-JPEG)
1920 x 1080p at 59.94 fps (180 Mbps MOV)
1920 x 1080p at 23.98, 24, 29.97 fps (90 Mbps MOV)
1920 x 1080p at 59.94 fps (60 Mbps MOV)
1920 x 1080p at 23.98, 24, 29.97 fps (30 Mbps MOV)
1280 x 720p at 120 fps (160 Mbps MOV)
1920 x 1080p at 59.94 fps (60 Mbps MP4)
1920 x 1080p at 23.98, 24, 29.97 fps (30 Mbps MP4)
1920 x 1080p at 29.97 fps (12 Mbps MP4)
Metering Method
Center-weighted average metering, Evaluative metering, Partial Metering, Spot metering
Focus (Video)
Auto
Manual
Exposure Modes
Aperture Priority, Manual, Program, Shutter Priority
Video Clip Length (mins)
4096 x 2160: 29 Minutes, 59 Seconds
Exposure Metering
EV 1.0 - EV 20.0
Audio Recording
Built-In Mic: With Video (Mono)
Optional External Mic: With Video (Stereo)
Connectivity
1/8" Headphone, 1/8" Microphone, Canon N3, HDMI C (Mini), USB 3.0
White Balance
Auto, Cloudy, Color Temperature, Custom, Daylight, Flash, Fluorescent (White), Shade, Tungsten
Wi-Fi
Yes
Built-in Flash
No
Battery
1 x LP-E6N Rechargeable Lithium-Ion Battery Pack, 7.2 VDC, 1865 mAh
Dimensions (WxHxD)
5.9 x 4.6 x 3.0" / 150.7 x 116.4 x 75.9 mm
Max Sync Speed
1 / 250 seconds
Weight
800 g
Dedicated Flash System
eTTL
External Flash Connection
Hot Shoe
Video Recording
4K
Exposure Control
Auto: Shutter Speed, Aperture, ISOand Manual: Shutter Speed, Aperture, ISO
Audio Recording
Built-in Mic: With Video, Stereo and Optional External Mic: With Video, Stereo
Wi-Fi
Yes
Battery
1x LP-E6N Rechargeable Lithium-ion Battery Pack, 7.2 VDC, 1865 mAh
AC Power Adapter
AC-E6N (Optional)
Dimensions (WxHxD)
139.0 x 105.2 x 78.5 mm
Weight
800
Autofocus
Yes
Image Stabilization
lens based
Body Type
SLR
Brand
Canon
Megapixels
30.4
What's In The Box
Canon EOS 5D Mark IV Body
Canon EOS 5D Mark IV Body x 1
LP-E6N Lithium-Ion Battery Pack (7.2V, 1865mAh) x 1
LC-E6 Charger for LP-E6 Battery Pack x 1
Eyecup Eg x 1
RF-3 Body Cap for Canon EOS Cameras x 1
IFC-150U II USB 3.1 Gen 1 Interface Cable for DSLRs x 1
Cable Protector x 1
Wide Neck Strap x 1
Software CD-ROM x 1
Read Our Helpful Buying Guides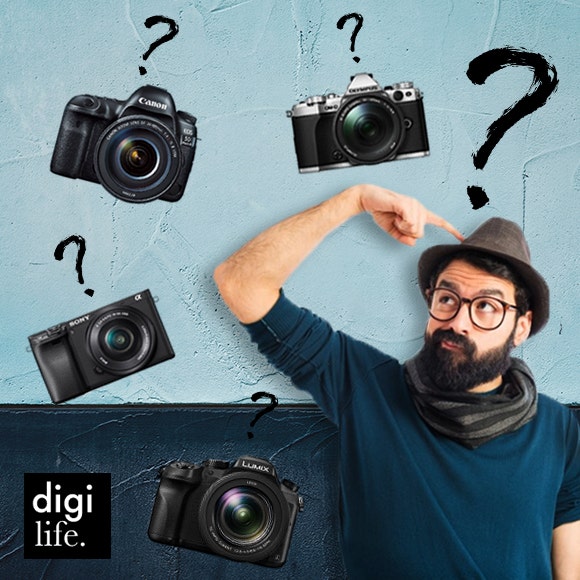 What's In The Box
Canon EOS 5D Mark IV Body
Canon EOS 5D Mark IV Body x 1
LP-E6N Lithium-Ion Battery Pack (7.2V, 1865mAh) x 1
LC-E6 Charger for LP-E6 Battery Pack x 1
Eyecup Eg x 1
RF-3 Body Cap for Canon EOS Cameras x 1
IFC-150U II USB 3.1 Gen 1 Interface Cable for DSLRs x 1
Cable Protector x 1
Wide Neck Strap x 1
Software CD-ROM x 1
Read Our Helpful Buying Guides