Canon's long awaited EOS R5 has finally been released, and it comes with quite a few impressive features. We spent some time testing the R5 and have prepared this short written review to highlight our thoughts. If you prefer a video format, an expanded version of this review can be found in our review video here, including sample footage and photos.
EOS R5 Build Quality and Ergonomics
Shooters coming from a DSLR background, particularly the Canon 5D Mark IV, will find a lot of similarities here. With a similar hefty grip size and the same wheel and joystick from the 5D IV, the EOS R5 feels like a very solid and professional body. While it's mirrorless nature makes it a bit smaller than comparable DSLRs, this is not a mirrorless camera that aims to be as compact as possible. Considering the pro nature of this camera, this is a positive trait.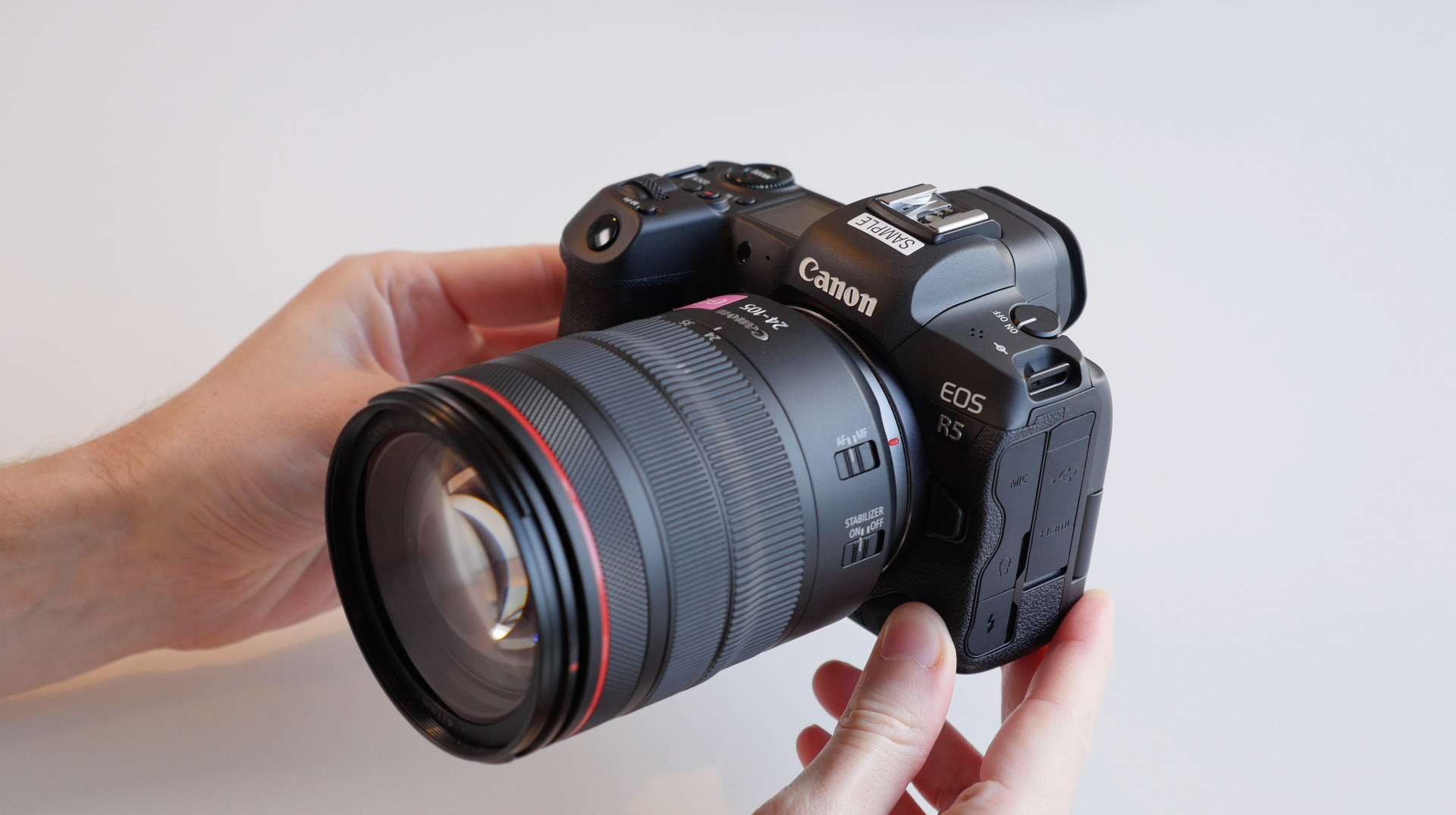 One point of particular note is the ease of use that the EOS R5 has in navigating and accessing its features. Considering the breadth of modes and features, the menu system is quite straightforward and easy to parse. This is aided by excellent touchscreen implementation on it's fully articulating LCD screen. Overall, the handling and ergonomics of the Canon EOS R5 is very high, to the quality we would expect of a Canon flagship camera.
Canon R5 Image Quality
The R5 features a 45MP sensor, which puts it in the upper echelon of resolution among the current batch of cameras on the market. Now, certainly resolution isn't everything, but it does provide a level of fine detail that you may find particularly useful if you are making enlargements, doing extensive cropping, or generally want high resolution.
As a quick aside, although the older Canon 5DSR sports a 50MP sensor, the EOS R5 actually performs better on resolution tests than the 5DSR, making the EOS R5 the highest resolving EOS camera to date.
Practically speaking, the pictures are a joy. Crisp detail is present across the frame, and the colours and low light performance also are on point. As the camera we were testing on was a pre-production sample, Canon has asked us not to share images in a format where viewers could download them (like in an article such as this), but we have the images displayed in our video review.
In-Body Image Stabilisation on EOS R5
The EOS R5 debuts Canon's first implementation of 5-axis in-body image stabilisation on an EOS camera, and it's been a long time coming! Many were hoping to see this on 2018's EOS R, but were disappointed. Happily, the wait has been worth it, as the R5 features a robust IBIS system that provides up to 8 stops of stabilisation. This utilises what Canon is calling Co-ordinated Control IS, which mixes in-body IS with IS on their RF lenses. As such, the rating changes slightly depending on which lens you are using, but most RF lenses provide the full 8 stops.
In practice, the IS is smooth and discrete, providing a much reduced need for gimbals and other elaborate stabilisation units, at least for everyday shooting. It renders static video shots easily achievable while shooting handheld, and allows stills shooters to capture images at much lower shutter speeds than would otherwise be possible. Kudos to Canon for finally introducing a strong IBIS system on their cameras - better late than never!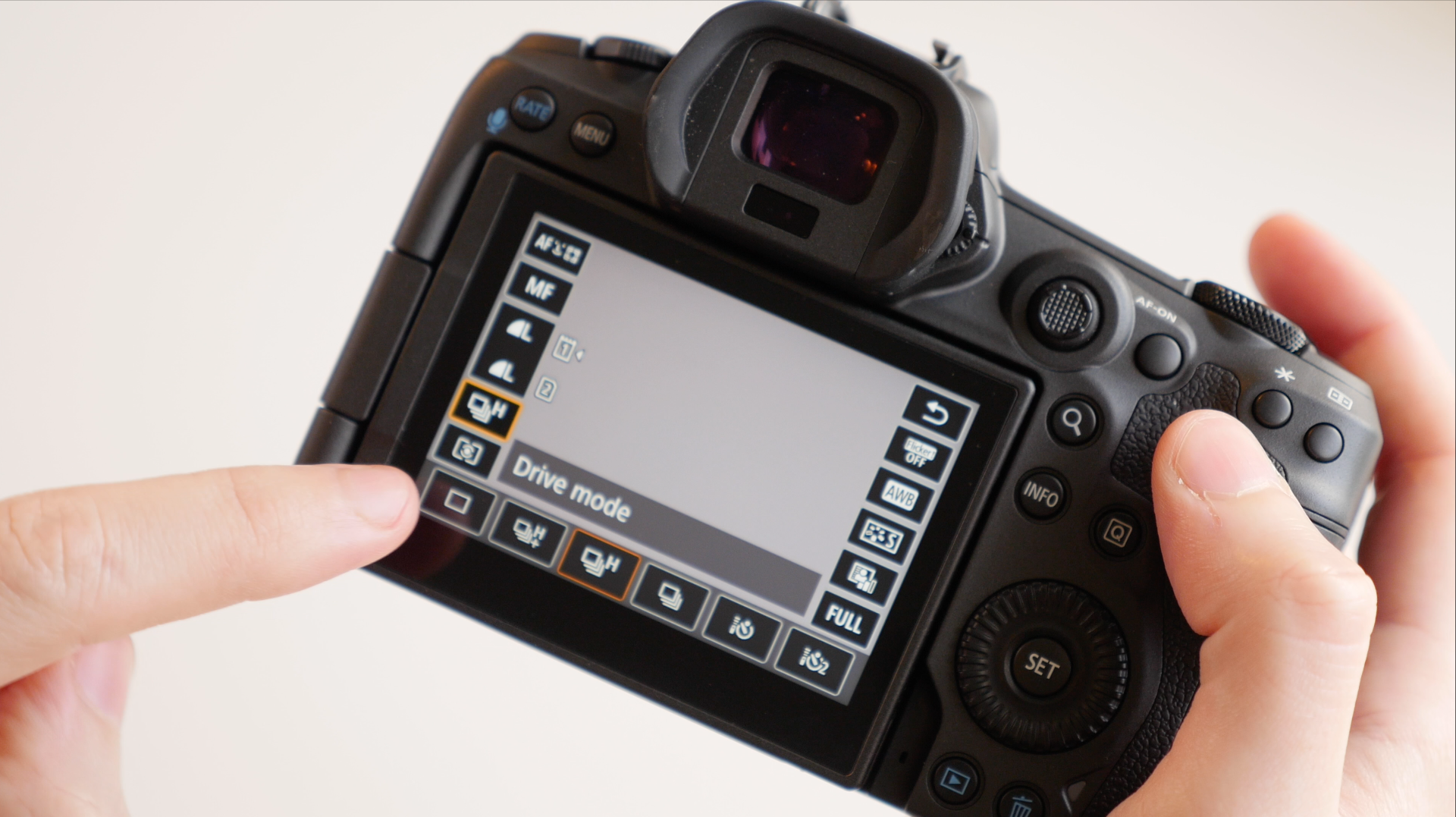 Strong touchscreen implementation makes the EOS R5 easy to navigate
Dual Pixel AF II on Canon EOS R5
A staple in Canon's repertoire, the Dual Pixel Autofocus system that we've seen various iterations of over the years appears in the EOS R5, and here it is in it's best form yet. With 100% AF coverage across the frame, the AF system is fast, smooth and accurate.
Face and eye detect have been improved, and animal eye detect has been added. We tested this quite extensively with birding images, and found that the animal eye detect was able to pick out a bird's eye from quite a distance, and track it effectively as it moved unpredictably.
Tracking capabilities were also exceptional, easily handling birds flying overhead in front of a busy cityscape background, or bicyclists traveling at speeds directly towards the camera. This system will delight sports & wildlife photographers who deal with erratic and unpredictable movement, or portrait photographers who want critical focus on their subject's eye.
The camera can also shoot bursts at speeds of 12 fps with the mechanical shutter, or 20 fps with the electronic shutter. While the electronic shutter does result in some rolling shutter, it is more well controlled here than many of its competitors.
Finally, this robust AF system works every bit as well in video shooting as it does for stills. Some Canon cameras in the past have had AF performance reductions in more demanding video modes, but the Dual Pixel AF II on the EOS R5 is present in all it's glory in every video mode - even 8K!
Overall, the AF system on the EOS R5 is absolutely top tier in the market. We would go as far as saying it may be the absolute best - the only system that can really compare is Sony's most recent AF advances, but the edge may still go to the R5 here.
Video Features on the Canon EOS R5
Video on the R5 is one of the most heavily touted features, as the camera surpasses all competitors by offering 8K RAW internal video! This is something that has not been seen yet on consumer-level cameras. Overall, the main video modes offered on the EOS R5 are as follows:
Internal 8K 12-bit RAW video with no crop

4K 120p video in 10-bit 4:2:2 for 5x slow motion when slowed to 24p

4K HQ video, which is downsampled from 8K to provide higher quality than regular 4k video

4K 60p video

4K 30p and below video
The 8K video is, as expected, incredibly sharp and high detail. Even when viewing on only a 1080p screen, the sharpness difference is apparent. Our favourite mode though was the 4K 120p shooting. The ability to capture very sharp footage in beautiful 5x slow motion was incredible. Factoring in the IBIS system and the strong AF performance, we were easily shooting handheld 4K 120p with the RF 85mm f/1.2 wide open, capturing mesmerising slow motion footage of moving subjects with an extremely shallow depth of field. It made shooting gorgeous video trivially easy. Happily, even the standard 4K 24p video recording, which will be the workhorse mode for most, was similarly attractive, with great colours and sharpness
However, all is not roses in the world of EOS R5 video shooting. A much-talked about feature is the issue of the R5 overheating when shooting video. We can confirm, the R5 does overheat, primarily when shooting 8K and 4K 120p. In our tests we were able to achieve about 18 minutes of 8K footage or 15 minutes of 4K 120p before the camera overheated. Once it does overheat, it takes a fair amount of time to cool down to the point where you can shoot more 8K or 4K 120p.
That being said, there are a few reasons why, in practice, you may not find this as debilitating as some internet commentators may have you believe. Those 18 minutes of 8K took up 340gb of space on our 512gb CFExpress card. Even without overheating issues, the space requirements of shooting 8K means that it's not going to be a replacement for 4K in most situations. Shooting an hour-long interview in 8K would be over 1TB of space, making it not realistic for most regardless of overheating. It's best suited for shorter b-roll sequences where you may want the flexibility to punch in while still keeping at least 4K resolution.
15 minutes in 4K 120p may sound like even less, but keep in mind this is at 5x slow motion. Slowed down to play back at 24p, this is 75 minutes of footage. Realistically, you'll be shooting short bursts of 4K 120p, not 15 minute long segments. In practical use, we went out and shot quite a bit of 4K 120p, and with a little bit of consciousness were able to make sure we never hit the point of overheating.
Certainly for some the overheating will be a dealbreaker, but we would advise to just be aware of your practical shooting habits and situations to determine if the overheating will be a realistic concern, and how much of one. For a visual side-by-side comparison of the video modes and a more in-depth overheating discussion, watch our review video.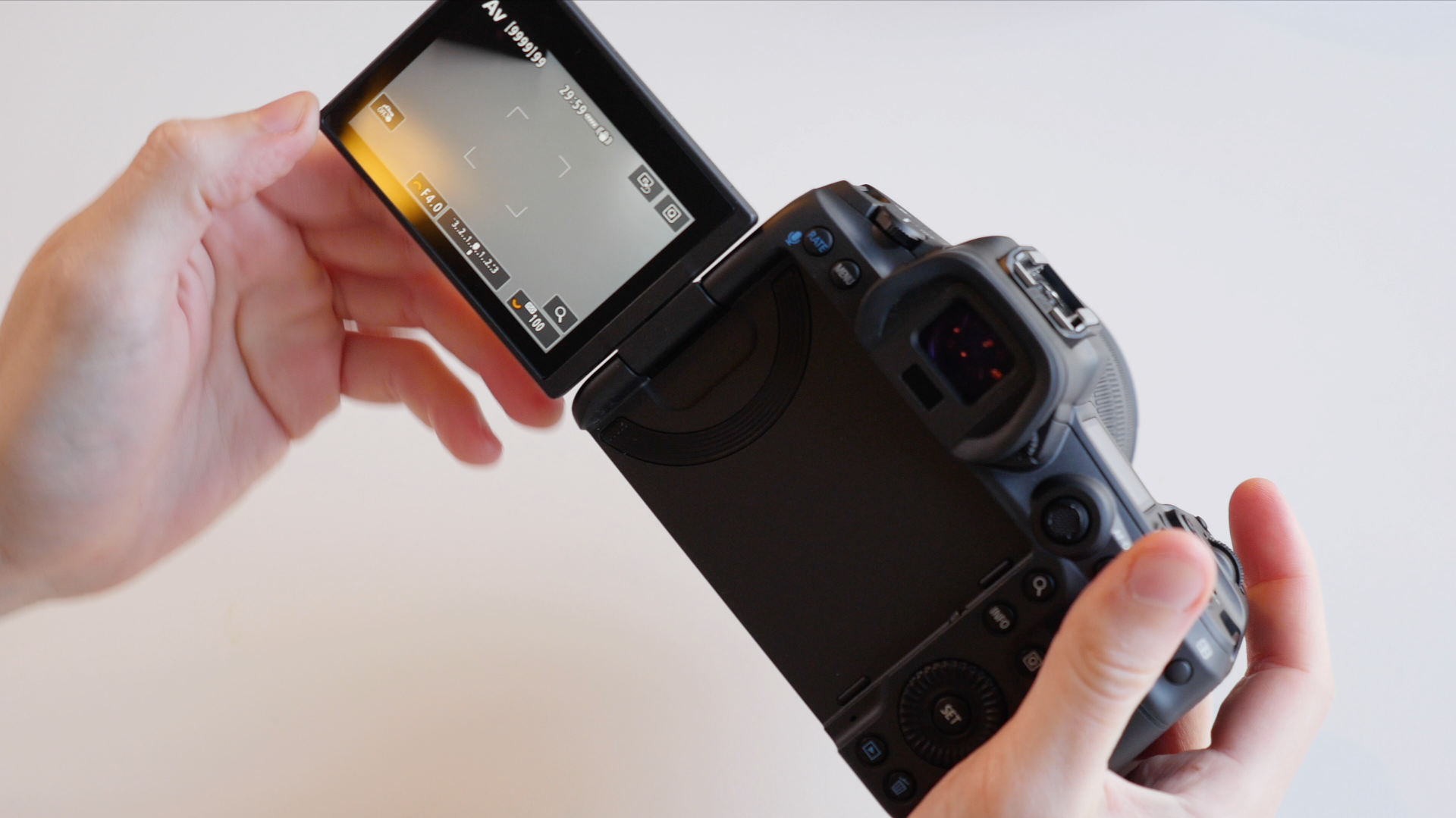 A fully articulating screen provides flexibility for stills and video shooters alike
Verdict on the Canon EOS R5
Overall the EOS R5 is an exceptional camera. It combines strong ergonomics, excellent image quality, robust IBIS system, top-of-the-line AF performance and market-leading video specs into a single camera that can just about do it all. While the biggest knocks against it are the overheating and the high price point, for the serious shooter this camera provides an opportunity that no other on the market can match. The Canon EOS R5 receives our highest recommendation.
If you are interested in the EOS R5, you can order it
here
. Alternatively, visit us in-store where you can test the camera out in person. Our store locations are available
here
.
.